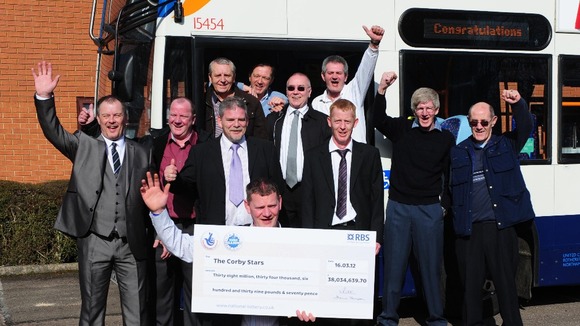 A syndicate of Northamptonshire bus drivers who won a "life-changing" £38 million EuroMillions jackpot have spoken of their joy - and revealed that they had been facing cuts in their working hours.
Speaking at a press conference in Corby, syndicate leader Chris Smith said the Stagecoach drivers - who each scooped more than £3.1 million - were happy that they had all won together.
Saying the win could not have happened to a "better bunch of blokes", 34-year-old Mr Smith told reporters: "Times have been very tough for everyone - we were facing up to shifts being cut, which can really hit you in the pocket.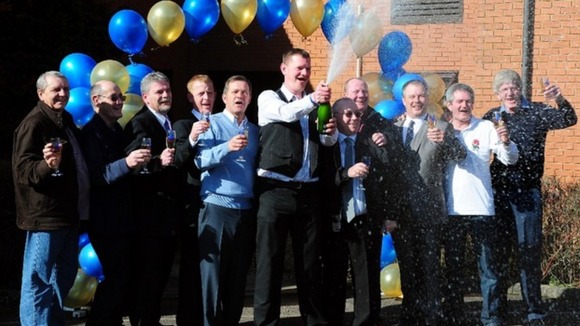 "This win means so much and is life-changing for everybody - people can live their dreams and help out their families. We are all friends as well as colleagues and I am happy that we have all won together."
"On Friday my partner checked half our numbers and I checked the other half - she just passed the winning ticket over and paused the TV on the numbers. We kept looking at it and passing it between each other about four or five times. We couldn't really believe that they all matched."
– Chris Smith, syndicate leader

The group agreed to meet at 9am on Saturday to call Camelot to register their claim and none of the syndicate due in work made it in on Saturday - with most admitting that they weren't thinking clearly enough to go to the depot.

Other members of the syndicate whose names were released to the media at a hotel in Corby are Stephen Derrick, 53, Dave Mead, 54, Charlie Gillion, 65, Jim Patton, 55, Neil Tayton, 58, Alex Robertson, 57, Ally Spence, 57, Charlie Connor, 40, and 51-year-old Derek Wilson.

Their spending plans are said to range from houses and dream cars to holidays of a lifetime, but each winner wants to looks after their family, including some who plan to fund further education and pay off debts.