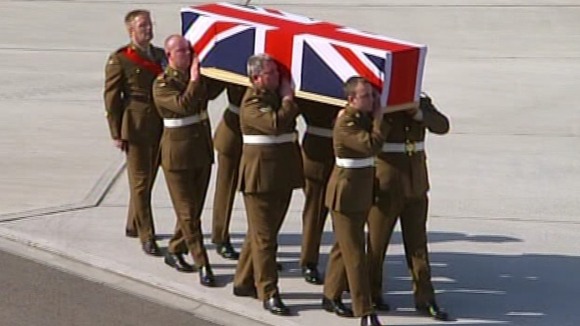 The body of a soldier from the Midlands has been repatriated at RAF Brize Norton.
Captain Rupert Bowers of the 2nd Battalion, The Mercian Regiment, was killed in Afghanistan by an improvised explosive device on March 21.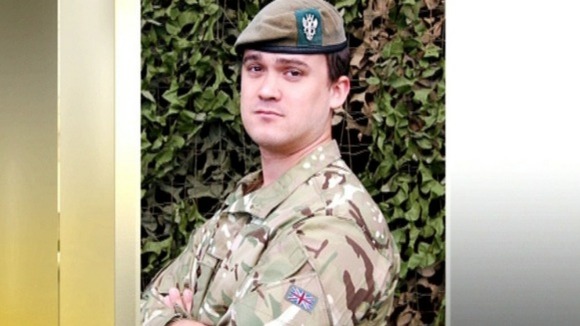 The coffin bearing Captain Bowers was the second to be carried from the aircraft after it landed this afternoon.
With him were the coffins of two other soldiers killed on Monday:
Sergeant Luke Taylor of the Royal Marines, and Lance Corporal Michael Foley of the Adjutant General's Corps (Staff and Personnel Support).
Capt Bowers lived near Oakham in Rutland with his wife Vicky, who only last month gave birth to their son Hugo. His family lived at Shawbury in Shropshire.
He was born in Wolverhampton and was a boarder for five years at Old Swinford Hospital School in Stourbridge.
After he left the school in 2005, he remained involved with the school's Combined Cadet Force, and paid recent visits there.
Tonight at their annual dinner, the Old Swinford CCF will remember him.
His former headmaster Peter Jones said:
"When he arrived into Year 13, he became the senior cadet officer, which is the highest rank position in the student body in the school and he was an outstanding role model. And if I was to sum up what he was like, he was disciplined, he was organised, he had a great sensitivity towards other students, he had a wonderful relationship with staff and students. In the wider sense he was an outstanding individual."
– Peter Jones, Headmaster Old Swinford Hospital School in Stourbridge

Capt Bowers had been attached to the 2nd Battalion The Rifles and was an advisor to the Afghan National Army.

He'd been based in the Forward Operating Base at Ouellette in Nahr-e Saraj, Helmand.

The Ministry of Defence say he was killed in an explosion as he led a patrol to clear a position from the threat of insurgents. In a statement his family said:
"Rupert was a kind, caring and thoughtful man who was selfless in his actions as a brave, courageous soldier. He was a devoted husband, son and father who leave a wife who is proud to have known him and a sister and parents whose grief is immeasurable. He will be sorely missed and always in our thoughts."
– Statement from Captain Rupert Bowers' family