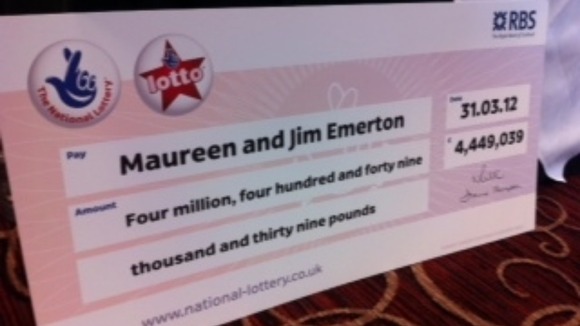 A couple from Nottingham have won over £4 million after matching all six numbers in Saturday's lottery draw.
Jim Emerton, 56, and his wife Maureen, 55, from Carlton in Nottingham, scooped a £4,449,039 prize.
The region has had its share of good luck this year.
In January Gareth and Catherine Bull, from Mansfield, won £40,627,241, while Cassey Carrington and Matt Topham, both 22 and from Stapleford, took home a £45,160,170.50 after winning in February.
The couple said they thought the win was an April Fool's joke when they checked their ticket on April 1. Mr Emerton said he thought they had a "trick ticket".
When asked how they felt about living in such a lucky county, Mr Emerton said:
"It is strange. We were talking about this the other week, the EuroMillions being in England all the time, and we thought that was strange.

I didn't realise, that Nottingham is very lucky. That's good for me."
– Jim Emerton

The full report by John Willats contains flash photography: