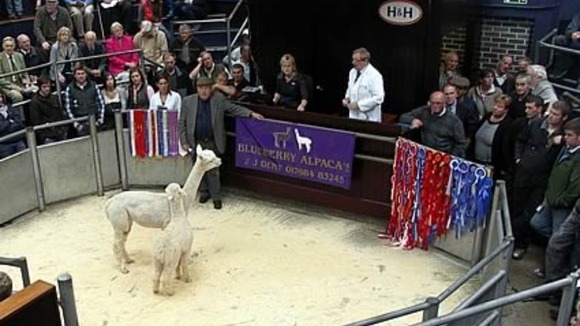 One of the biggest and most prominent sales of alpacas is being held in Warwickshire by the UK's first importer of Peruvian alpacas.
Breeder Mike Coghlan is selling 46 of his own alpacas because he wants to downsize.
He expects them to fetch at least £1,000 each and almost 100 are being sold in total.
The sale will be conducted by Harrison and Hetherington, one of Britain's leading livestock auctioneers and specialists in the sale of alpacas.
The stock on offer includes 25 maiden females, 56 breeding females, 2 potential stud males and 8 proven stud males.
Heather Pritchard, of Harrison & Hetherington, who has organised many alpaca auctions in recent years, says the sale is a "milestone":
"This is a tremendous sale of livestock and a major milestone for the UK Alpaca Industry. All of the sale animals are Pedigree Alpacas and are listed on the British Alpaca Society Register.
– Heather Pritchard

Alpacas are a relatively new addition to the British scene.

Over the last 16 years the UK herd has been growing and steadily improving.

The sale starts at The Warwickshire Exhibition Centre at 12.30pm.