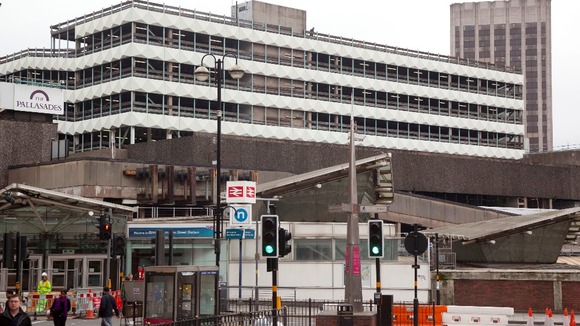 An eye-catching piece of 1970s architecture, the car park above The Pallasades in Birmingham city centre, is to close next month.
The NCP multi-storey is to be demolished and rebuilt.
It's part of the huge ongoing scheme to redevelop the much-criticised New Street railway station and the adjoining Pallasades shopping centre.
The car park will close at 7 p.m on Friday May 18th.
The plan is to open a new car park in 2014.
"a stunning new station facade providing cutting edge architecture in the heart of the city."
– Network Rail

It says there will be a concourse three and a half times bigger than the present station - and it will be enclosed by a giant light-filled atrium.

For years New Street station and surrounding concrete architecture has faced scathing attacks by visitors for being cold, drab and ugly.

The new station is due for completion in 2015.
"The redevelopment of Birmingham New Street will not only transform the station but deliver a modern, upgraded Pallasades centre and new John Lewis department store which will help transform the city centre and create new jobs."
– Chris Montgomery, Network Rail

The project director says "We apologise for any inconvenience the closure will cause but the existing car park has seen better days so demolishing it and starting again is the only viable alternative to allow us to deliver an improved, modern facility for the city."

Pallasades general manager Jonathan Cheetham says: "We are sure that people will understand that this is a necessary requirement in the development of The Pallasades as part of the overall Birmingham New Street project. The outcome will be a modern and safe car park with all the facilities to be expected, which will reflect the look and feel of the new shopping centre. We very much hope that people will bear with us while the work is ongoing, and that they will continue to visit our busy centre from other car parks close by."