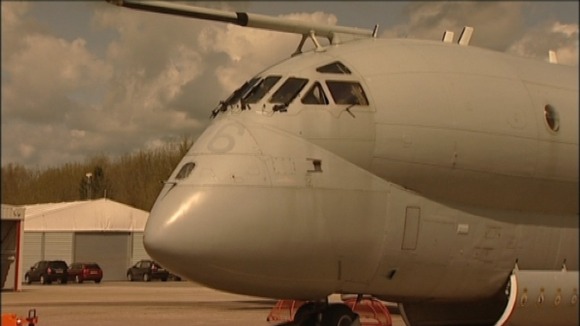 Philip Zarraga is worried that failure to bring into service a replacement patrol aircraft has left the UK and Europe "deficient"
Mr Zarraga, aged 72, from Loughborough, became chief pilot for JCB in Staffordshire after he retired from the services.
He flew 2,000 hours in Nimrods from 1976 to 1980.
The aircraft have been withdrawn but today an old one was on display to aircraft enthusiasts at Bruntingthorpe airfield in Leicestershire.
Two men who refuelled the Vulcan which disabled the runway at Port Stanley in the Falklands War with Argentina were back in the type of Victor aircraft they used.
Mike Beer, an air electrician officer in the Victor, says he too is concerned about the state of Britain's defences.
The Ministry of Defence says our ability to operate maritime patrol aircraft is being maintained.
The decision in the SDSR (Strategic Defence And Security Review) not to bring the Nimrod MRA4 into service was difficult but our ability to operate maritime patrol aircraft is being maintained. Only one Nimrod MRA4 had been delivered to the RAF and it had not past air worthiness tests, the project was hundreds of millions over budget, years late and needed considerable extra funding to rectify long-running technical problems.
– Ministry of Defence
Unlike in 1982, the Ministry of Defence has a well-defended airfield in the Falklands with ground-based air defences, and continues to have the ability to reinforce by air and sea. People should be reassured by the contingencies that we now have in place compared to 30 years ago. That said, there is absolutely no evidence of any current credible military threat to the Falkland Islands.
– Ministry of Defence