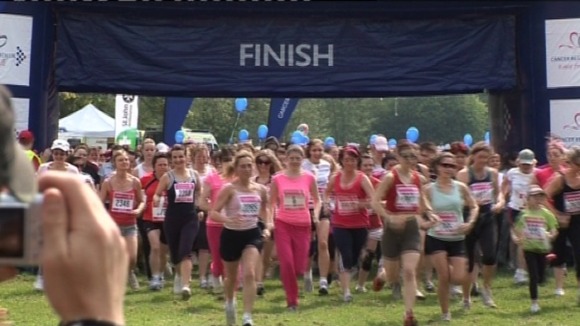 A woman who survived cancer three times is launching Cancer Research UK's Race For Life in Worcester.
Isobel Bradley has been training for the 5k event, even though she has had numerous operations to remove her womb, ovaries, and bowel.
Doctors have only given the 42 year old a fifty fifty chance of surviving the next two and a half years.
"I would say to people it is hard but it is so important not to give up and to make the effort every day to get out there."
– Isobel Bradley, cancer survivor

Isobel was first diagnosed with cervical cancer at the age of 28. Her only option was to have a radical hysterectomy.

But a few years later, while training for the London Marathon, Isobel suffered pain in her groin and abdomen. Soon after a tumour was discovered in her appendix and surgeons had to remove her fallopian tube, remaining ovary and appendix.

After being given the all clear, ten years later she was told she had cancer again. Isobel had already had so much radiotherapy that any more would have caused too much tissue damage. Her only option was really radical surgery to remove her bowel and bladder.

Her husband, Mike Bradley said: "There have been some very difficult times but the most amazing thing about Isobel is the way she keeps bouncing back. She's an inspiration and I am so proud of her taking part in Race For Life."

There are 40 Race For Life events across the Midlands where women of all ages can walk, run or jog around the course.

Kelly Rumble, from Cancer Research UK said: "Cancer Research UK receives no Government funding for its ground breaking research. So money raised through Race for Life is crucial to the pioneering work of doctors, nurses and scientists who are fighting cancer on all fronts."

Victoria Davies reports: