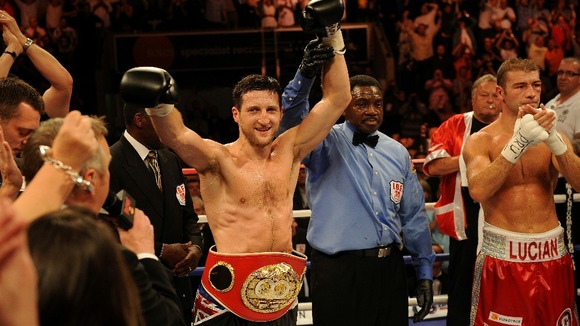 "I've been boxing at the top level for five years. To put it into words, I can't but it feels pretty good"
– Carl Froch
"He was like a ferocious animal I don't know what happened tonight, he just came out, quickly as possible he wanted to get the job done"
– Shaun Davy Carl Froch's fitness trainer
"I'm so proud of him

"Karl Froch, three times world champion, it's got a great ring to it hasn't it"
– Model and girlfriend Rachael Cordingley

Match spectators give their reactions after Carl Froch beat his opponent Lucian Bute, making him third time world champion in front of a home crowd in Nottingham.

ITV Central was given some exclusive mobile phone footage of Carl Froch's after-party at Gate crasher in Nottingham.