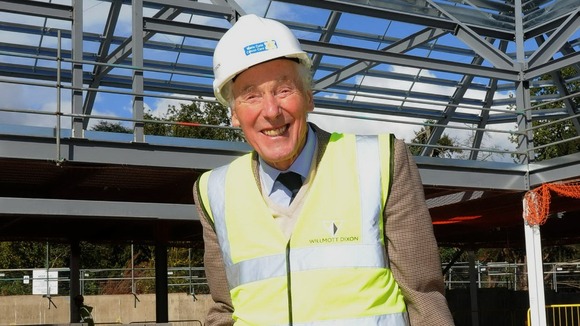 Former Olympic rower and Chairman of Cadbury and Cadbury Schweppes is backing Marie Curie Cancer Care's appeal to raise the £4 million needed to build a new hospice for the West Midlands.
Sir Cadbury has pledged his support for the project, after laying a brick at the start of the new build he has since visited the building site on Marsh Lane, Solihull and spoke of his experience with the charity and why the appeal is so important.
"Recently family members have benefitted from the care of Marie Curie Cancer Care and so I have seen at first hand the difference the chairty can make to those in need of their support.

"I'm supporting the BIG build appeal because the new hospice will make local history. We need to respond to the needs of an ageing population.

"Many people will now reach the end of their lives with complex conditions so we need to build extra facilities to cope."
– Sir Adrian Cadbury