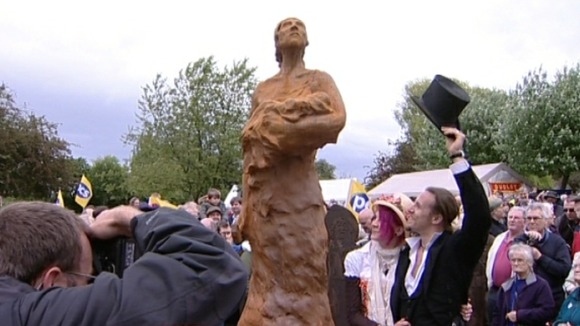 A statue has been unveiled to commemorate a strike by 800 women chain makers - credited with improving the working lives of many thousands of people.
The women successfully fought for 10 weeks in 1910 for a fairer wage and managed to double their own pay.The statue in Cradley Heath in the Black Country was based loosely on Natalie Perry, the wife of the sculptor who made it.Asked if she felt a bit weird to see herself sculpted like this, Natalie replied:
"Yeah, I never expected it to happen. Obviously marrying a sculptor...it is very strange. I think he has been rather flattering."
– Natalie Perry

Among the strikers was Patience Round, the great grandmother of Sylvia Shaw from Tenbury Wells.
"She did the right thing. She did it for everybody in the country toget the wages up because they lived in slavery. Poverty and slavery."
– Patience Round
"Cradley Heath has always associated itself with chainmaking. Andthere has been nothing to show this is and was the centre ofchainmaking for a couple of centuries. So this is the first thing thatwill really mark it. It will be the centre of the community's heritagepride. So it is great - and a real honour for me to be able to makeit."
– Sculptor Luke Perry

Tony Barnsley, a trade unionist, who wrote a book called Breaking Their Chains said:
"The actual victory the chain makers achieved in Cradley Heath washistoric in 1910. It was the first time any group of workers hadestablished a minimum wage in Britain. And they doubled their wageovernight by winning the strike. Therefore it is really important thatpeople remember the local history here and take some pride in it."
– Tony Barnsley