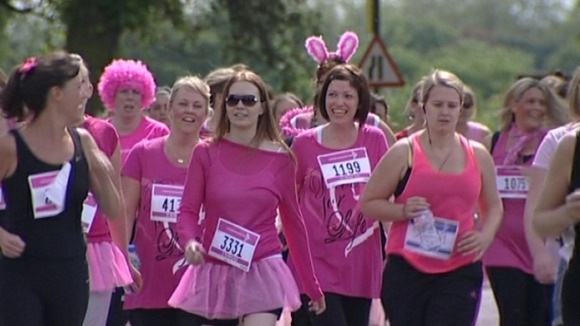 Hundreds of runners gathered in Nottingham today for Cancer Research's Race for Life.
The race is a women-only series of money raising events for research to help men, women and children across the UK to survive cancer.
There were two 5 kilometre races today both of which began at Nottingham's Victoria Embankment.
The first started at 10.30 BST this morning, with the second starting at 14.00 BST.
Since Race for Life started in 1994, more than £457 million pounds has been raised for cancer Research.
Some of the fundraisers from today told Central News why the charity is so important to them.
"We're doing the Race for Life because I had cancer when I was 18.

"So I know how important it is to raise money for charities like Cancer Research.

I have also lost friends to the disease."
– Andrea Emmett
I'm doing this for my friend Jen, who has passed away and for a friend's husband who is battling cancer at the moment.
– Trish Beattie
"Brilliant fun again this year, the weather is shining on us for the second year running.

Everyone is doing something in memory of someone they have lost."
– Race for Life fundraisers in Nottingham