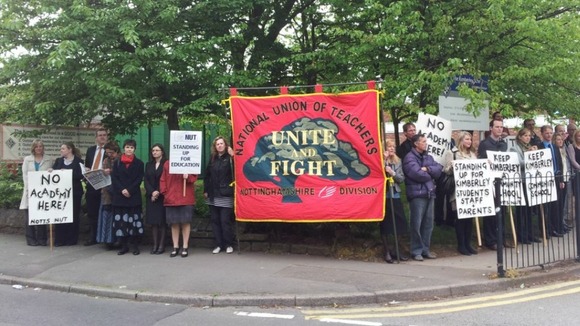 Teachers at a Nottinghamshire secondary school today began a two-day strike over plans to turn it into an academy.
The stoppage at the Kimberley School will mean hundreds of pupils missing lessons, although the headteacher insists it won't affect those taking exams.
It's the second walk-out over the issue by members of the National Union of Teachers (NUT).
This morning striking staff were picketing the school gates.
The school says conversion to academy status will bring in an extra £700,000.
The NUT says it's concerned about the implications for its members' working terms and conditions.
But the union says the action is also part of a wider protest against the academy programme which it claims is breaking up the state system of education.
The strikes today and tomorrow follow a one-day stoppage on the May 29th.
"The Chair of Governors and I met with the NUT on the 30 May and restated our commitment to protect terms and conditions of all employees of the school, including teachers.

"We were unable, however, to comply with their wish that we reverse the Governors' decision to become an academy.

"I sincerely regret the disruption being caused by this action and would seek to reassure you the school is doing all it can to minimise this."
– Headteacher Chris Teal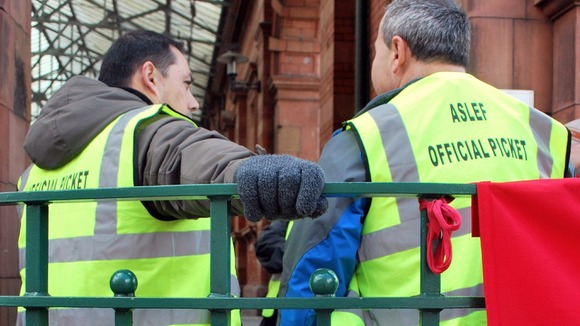 And drivers at East Midlands Trains are to stage two fresh strikes in a long-running row over pensions, threatening further disruption to services.
Members of the Aslef union at East Midlands Trains will walk out on June 23 and 25 in the latest phase of a campaign of industrial action.
The company attacked the action, saying that Aslef had accepted similar pension scheme changes at two other train companies without becoming involved in a dispute.
"We know that our passengers will be extremely angry to hear that Aslef is planning to cause further unnecessary disruption to their train services.

"Both the RMT and Unite unions have recommended acceptance of the same updated pensions proposals we offered to Aslef several weeks ago.

"Aslef also accepted the same pension contribution changes at two other rail companies. The action is indefensible and pure hypocrisy.

"Our drivers have already lost £1,200 through six days of pointless strike action and we are certain they don't want to lose any more money.

"We expect they will also be unhappy to hear that union leaders have called further strike action without reballoting their members.

"We have already demonstrated that we can successfully continue running services for passengers despite Aslef's action and we are committed to running as many services as possible on June 23 and 25."
– David Horne, East Midlands Trains Managing Director
"The company began to put out these smears only hours after agreeing a meeting for next Tuesday.

"On one hand they smile and promise open and honest talks, while on the other they sneak around calling the union names - and then they accuse us of hypocrisy.

"I have to say their ill-tempered outbursts do not bode well for an agreement to be made at next week's meeting.

"They are clearly more concerned with their egos than their passengers."
– Mick Whelan, Aslef General Secretary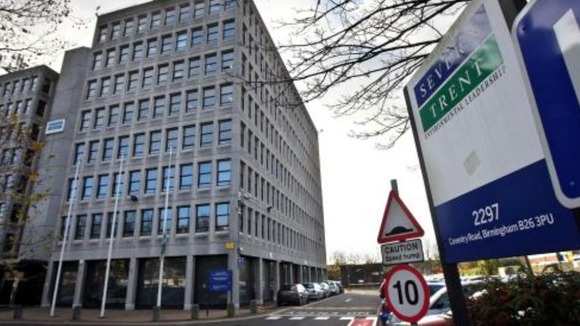 Thousands of workers at a leading water company are to be balloted for strikes in a row over pay.
Around 5,000 members of the GMB union at Severn Trent will vote on whether to launch a campaign of industrial action after rejecting a 2% pay offer.
Workers to be balloted include operatives, administration staff, supervisors and junior managers.
"This 2% offer is the lowest in the industry and is well below inflation. It is not acceptable to GMB members.

"Severn Trent Water has just announced the payment of a special dividend of #150 million to shareholders over and above the #100 million paid in the normal dividends.

"Severn Trent have also increased bills to customers by 5.2%, raising an additional #60 million which they have simply passed on to the shareholders."
– Gary Smith, GMB union