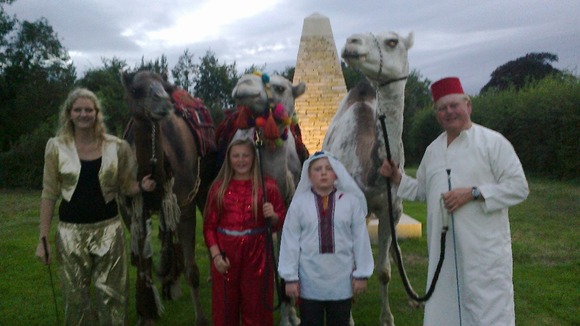 The only family in Britain to own a herd of camels, regularly use the desert dwelling creatures to run errands and collect their children Daisy (13) and Leo (10) from school in Warwickshire.
The Fossett family from Lidlicote, Warwickshire are the only people in Britain to own a herd of camels.
For the people of Lidlicote the six camels are a regular sighting around the area, whether it is the Fossett family taking their beasts to the local pub in Shipton on Stour, shopping or simply going for a trek.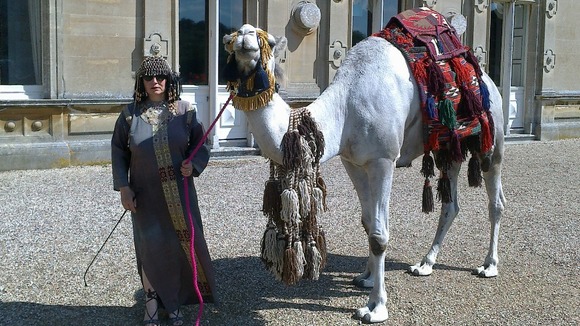 Mrs Fossett (42) says the family go out with the camels once or twice per week and people love seeing the beasts.
** 'They are very much a part of the family. The kids joke that the camels get treated better than they do.**

'We love them as if they were extra members of the family.

'Our local pub even has a sign that reads 'dogs and camels welcome'.
– Mrs Fossett

Mr Fossett (52) has had a fondness for the animals, which can grow to seven feet tall, weighing 2000lbs, for much of his life on account of being raised in a circus family.
"They can be very high maintenance and take an awful lot of care, but the similarities between them and domestic animals are plentiful.

"They prove to be great company and are very affectionate.

** "I had camels as a child while growing up in the circus and have loved them ever since. **

"They are such great animals, all with their own intricate personalities. **"**
– Mr Fossett

The family have turned their love of camels into a thriving business 'Joseph's Amazing Camels'.

The camels, which cost £10,000 each, are used regularly by the family to take paying customers on treks across the countryside or are hired out at special events.
*"We get comments all the time about how mild-mannered they are and how they smell so clean. *

*"The camels are very good around people. *

"People think they are grumpy and spit all the time but that couldn't be further from the truth.

"They are in fact incredibly nosy and rush to the garden gates to have a look whenever anyone goes past, so they enjoy being out and about and interacting with people."
– Mr Fossett