Peterborough dog wins prize for being ugliest in world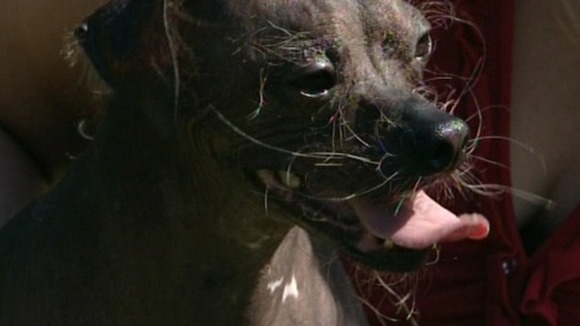 A dog from Peterborough has been crowned the world's ugliest in a contest in California.
Mugly, an 8-year-old rescue dog, beat 28 other ugly mutts from all over the world to win the crown. He has also been invited for a photo shoot and will receive a VIP stay at the local Sheraton.
I couldn't speak when they announced Mugly's name. I didn't know which way to look. I was shaking as much as the dog."
– – BEV NICHOLSON, MUGLY'S OWNER

It's not the first time Mugly has been recognized for his unattractiveness. He was named Britain's ugliest dog in 2005.

His distincitive appearance brought trouble in 2009 when he was picked on by a gang of youths in Peterborough.

Organizers at the contest at the Marin-Sonoma Fairgrounds say the competing dogs are judged for what they call their "natural ugliness in both pedigree and mutt classes."

Mugly's victory was the latest for a Chinese crested. Last year's winner, Yoda, was a Chinese crested and Chihuahua mix.