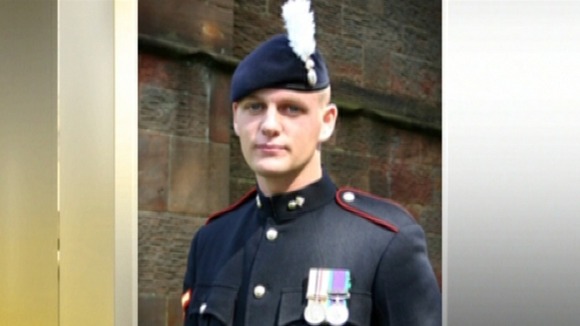 Mourners will gather at the funeral of Corporal Michael John Thacker at Coventry Cathedral later today.
Corporal Thacker, who lived in Keresley in Coventry, was shot while manning an observation post in Afghanistan on June 1st.
He was serving with the 1st Battalion The Royal Welsh in the Nahr-e Saraj district of Helmand Province.
Corporal Thacker was part of the Fire Support Group and was positioned at Observation post 'Tir' when he was hit by small arms fire.
The 27-year-old leaves behind a wife and two-year-old daughter, father, mother and three brothers.
Speaking after his death, his widow Catherine paid this tribute to him:
"Michael was the love of my life. He was an amazing husband and father who will always be remembered as a funny, loving and kind man. Everyone who met Mike instantly liked him and through time came to love him."
– Catherine Thacker, widow of Corporal Michael Thacker

Corporal Michael Thacker's brother Matthew, who also serves with The Royal Welsh, also paid this tribute:
"Corporal Michael Thacker is my big brother and the best I could wish for. We were more than brothers, we were best friends and words cannot express how much he will be missed...

"Michael could light up a dark room, always making people laugh because of his great personality. Devastated cannot come close to how we as a family are feeling. He died doing the job that we Thacker brothers love. He is a true hero."
– Corporal Matthew Thacker, 1st Battalion The Royal Welsh

Comrades, friends and family will gather for a private service at the Cathedral later today