Homecoming Parade
Soldiers march through the streets of Derby for homecoming parade
by ITV Central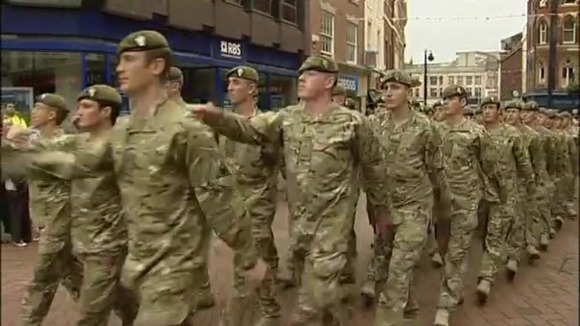 Around 300 soldiers from the 2nd Battalion The Mercian Regiment will march through Derby today, to mark their return home from Afghanistan.
The soldiers will march along the route from Back Sitwell Street to the Market Place, followed by a Civic Reception at Derby Assembly Rooms.
Over 100 of the soldiers on parade will be from Derbyshire.
Yesterday, the people of Nottingham lined the streets to watch the soldiers march through Nottingham, followed by a reception at Nottingham City Council House, where six soldiers received Op Herrick Campaign medals.
"I hope the people of Derbyshire will put aside half an hour to line the streets from Back Sitwell Street to the Market Place to show their support to soldiers from their city.

"It is a great privilege to take part in this homecoming parade and I know that everyone of us will be deeply grateful for the support that the public give and at the same time intensely proud that we are finally home, having done a job to the best of our ability. The parade really means a lot to us and we look forward to seeing our families, friends and well-wishes as we march through the city streets."
– Lieutenant Colonel Colin Marks, Commanding Officer