Strike Against Academy
Parents are calling for teachers to go back to work at Nottinghamshire secondary school
by Peter Bearne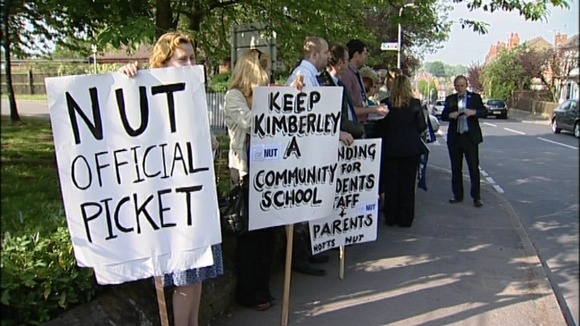 A long-running dispute over the future of a Nottinghamshire secondary school has taken a new twist, with parents now calling on striking teachers to go back to work.
Two mothers, Lisa Hartshorn and Liz Flint, have collected hundreds of signatures on a petition condemning the disruption to pupils.
Today, the National Union of Teachers (NUT) staged its eighth day of strike action over plans to turn the Kimberley School into an academy.
Again, hundreds of children were forced to miss lessons.
The union offered to suspend any further stoppages if governors agreed to hold fresh talks with the conciliation service ACAS.
But the school has rejected the offer, saying it is determined to proceed with conversion in September.
Lisa Hartshorn, who has two children at the school, claimed the staff on strike were losing the respect of pupils.
"Initially they were on the picket-line in the morning, handing leaflets out to children having a laugh and a joke, But the more it's gone on, the children are just laughing at them now because they're thinking - you're skiving, you should be in school teaching. You're not."
– Lisa Hartshorn, who has two children at the school

But Ian Stevenson, from the NUT, defended the union's actions and criticised the school for passing up the opportunity to involve ACAS.

He understood the parents' frustration but said he wasn't seeing a groundswell of parents in favour of academy status.
"We're hoping to go back to the school to get them to reconsider, We're making every effort to avoid further strike action".
– Ian Stevenson, from the NUT

Headteacher, Chris Teal, told ITV Central that he had received around 30 emails from parents appalled by the strike action and only one or two supporting the walkouts.

This evening, governors are holding a special meeting to meet with teaching unions and local councillors to hear their concerns.

The Department of Education has now granted the school an Academy Order.

It's an important step towards becoming an academy but the move will only become irreversible when the school reaches a funding agreement with the Department.

That's scheduled to happen before the end of term.