The Olympic Torch
The Red Arrows will perform flypast as part of Olympic Torch celebrations
by ITV Central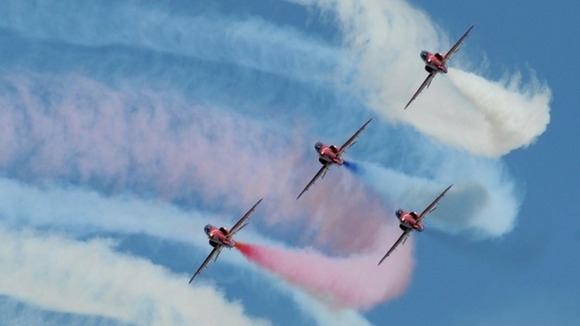 The Olympic Torch returns to the Midlands for a total of eight days, and tonight the Red Arrows will perform a flypast as the Torch arrives in Lincoln.
Based at RAF Scampton in Lincolnshire, the team will fly over Yarborough Sports Ground as part of the evening celebrations.
Around 10,000 people will attend tonight's event, and it will be the only evening celebration along the Olympic Torch Relay to involved the Red Arrows, before their involvement in the Olympics.
The Torch will arrive in Lincoln today exactly one month to the London 2012 Olympics' opening ceremony.
"It is a huge honour for us that the Red Arrows have agreed to play a part in this once in a lifetime event. The fly past will help bring our evening celebration to a dramatic conclusion as the torch cauldron is lit. We have always had very strong links with the team and I'm looking forward to them being welcomed home by 10,000 people not to mention those people lining the route."
– Councillor Ric Metcalfe, Leader of the City of Lincoln Council
"The Red Arrows are honoured to have been invited to take part in the London 2012 Olympic Games celebrations and to represent the Royal Air Force within our home county at the Lincoln Olympic Torch Relay Evening Celebration. My whole squadron, pilots and ground support staff alike, share the pride and privilege of being part of such an auspicious occasion."
– Squadron Leader Jim Turner, Officer Commanding and Red 1 of the Royal Air Force Aerobatic Team

Over the next eight days the Olympic Torch will pass through communities across the Midlands.

You can read our day-by-day guide to see where the Olympic Torch will be each day, and our street-by-street guide to see if the Olympic Torch will make an appearance on your street!