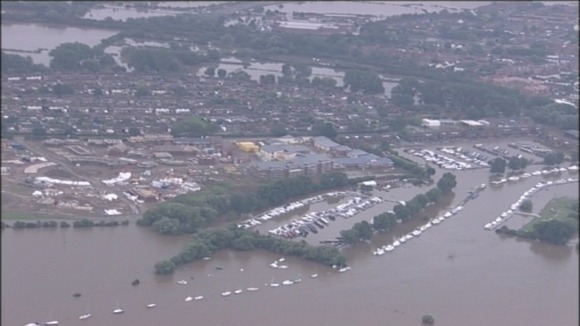 The flood waters may have gone from five years ago but for many the mental scars have remained.
"I was very stressed. They had to put me on different tablets. My home - I never, ever wanted to get rid of this house ever. But I would now."
– Eileen Wilson, a victim of the 2007 floods

Eileen - who now needs constant oxygen for a lung disease - had pneumonia three times when she lived in a freezing caravan while her flooded house was rebuilt.

Another family - the Heaths also had to move into a caravan.

Five years on and Mr Heath still has terrible memories of that time.
"I don't think you ever get over it. It is there. Every time you see water come up outside you think, oh my God, is it going to do it again? It's a horrible, horrible feeling."
– Mr Heath, was forced to move into a caravan after the floods

After the deluge of 2007, Tewkesbury's water treatment works was knocked out.

There was no tap water for days. Now a protective wall has been built around the works.

And they're confident here that it can withstand pretty much anything.

However people in the town are still made nervous by the recent weather.

But despite it all there's been no repeat of the floods of five years ago.

And the Rev Canon Paul Williams, the vicar of Tewkesbury Abbey, which had been surrounded by water has a message of hope.
"Some people still look back with a lot of fear and a it of hurt. We lost three people - killed during this. And the effects go on. "But Tewkesbury is up and is ready to receive people and be very much thinking about the future and looking forward to the future.. We are here and open for business. And after five years on, we are very much alive and wanting people to come and visit us."
– Rev Canon Paul Williams, the vicar of Tewkesbury Abbey