Rail Protests
Union protest in Birmingham against plans to cut railway ticket offices
by Keith Wilkinson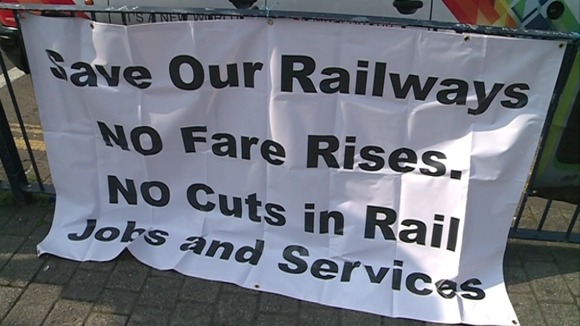 The Rail Union RMT has been protesting over plans for cutbacks to railway ticket offices at London Midland stations.
The union says it fears the Government will give the go-ahead to ticket office closures or reductions in operating hours.
Officials say such a move would turn stations into a "muggers' paradise".
Leaflets were handed out today by protesters at Birmingham New Street station, warning of cuts at 86 stations.
London Midland has issued the following statement:
"The number of tickets being bought at ticket offices is in steady decline. Passengers now have many more choices available for buying a ticket compared to when the opening hours for many ticket offices were established. There are ticket offices that sell very few tickets when they are open and so it makes no commercial sense to have our peopleworking at these times.

"Last year we widely consulted on our proposal to change our ticket office opening hours; including with our staff and the rail unions."Our proposals have been submitted to the Department for Transport and we await a decision."
– London Midland statement