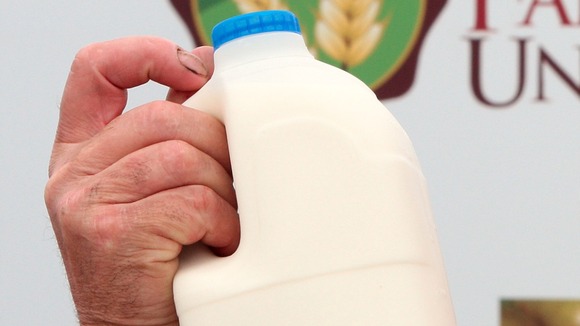 Robert Wiseman Dairies has become the last milk processor to withdraw on planned milk price cuts in August.
In a statement on their website today they announced that they will be holding the milk price for Wiseman Group Members.
"The decision takes account of concerns raised since we announced a 1.7ppl reduction in our ex-farm price from 1 August 2012. This followed the significant loss of income we suffered further to the substantial decline in cream values experienced since the beginning of the year which left us unable to sustain the milk price we were paying."
– Robert Wiseman Dairies website

They are the last of the major milk processors to withdraw from price cuts planned for 1st August, following changes in decisions from Dairy Crest, First Milk and Arla.

NFU president Peter Kendall said that although farmers have achieved a lot in getting this far in such a short time, there is still more work to be done.
"This was one of our key goals when we set out and we have achieved it.

"This will bring some relief to dairy farmers who supply liquid milk to Arla, First Milk, Dairy Crest and Wiseman/ Müller. But we will continue working hard behind the scenes to ensure these first steps turn into a longer-term, sustainable milk price for all dairy farmers. This can't be a short-term fix."
– Peter Kendall, NFU President

Over the past few weeks, dairy farmers across the country, including the Midlands have been calling for a change in planned price cuts that they say will drive them out of the dairy business, and increase prices for consumers in the long run.

The average milk prices for many dairy farmers are currently below 25p per litre even though it costs 30p to produce each litre.

A timeline of events can be seen below:

29th June: Robert Wiseman Dairies give suppliers a months' notice of the milk price cuts

3rd July: Dairy Crest is the next milk processor to announce cuts, along with Arla

4th July: First Milk also announce a price drop, and an emergency meeting is held in Staffordshire amongst farmers

11th July: Around 3000 members of the NFU protest in London against planned milk price cuts

23rd July: Dairy farmers hold blockade-protests across the country, including site in the Midlands

26th July: First Milk drops the price cut planned for 1st August, and Dairy Crest announces a two month stay of execution on its planned price cut

27th July: Arla to withdraw price cuts planned for 1 August, followed by Wiseman/Muller

The u-turn in planned milk cuts means that:
First Milk have now reversed the milk price cut to its liquid milk pool of 1.7 pence per litre, and 0.9ppl to its balancing pool - this takes its standard milk price to 26.05 ppl and 26.10 ppl
Dairy Crest has revoked its planned price cut of 1.65 ppl for two months
Arla said it could now maintain a standard litre price of 27p
The price paid by Wiseman Dairies for a standard litre will remain at 26.43p/litre