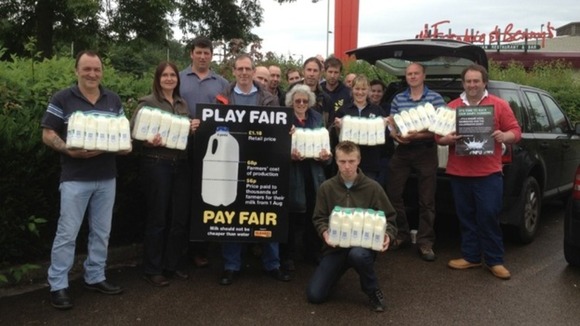 Farmers in Warwickshire are meeting today to discuss the next steps in the campaign to deliver sustainable milk prices to dairy farmers.
Members of the Dairy Coalition are to publish a plan, which will ask the milk buyers to take responsibility for the future of dairy farming.
At the end of July the four major milk processors withdrew plans for the planned August price cuts.
And following discussions with the Dairy Coalition, supermarket group Iceland Foods has agreed to investigate the development of an improved milk plan that could recognise the price paid to farmers.
Dairy processors Freshways has also agreed to work with industry consultants to develop a milk pricing system that reflects the cots of milk production.
However the President of the NFU has said there is still more work to be done.
"The work of the coalition has only really just begun. We are determined to bring about real and lasting change. Just this week, two milk buyers have signalled intentions to deliver long term pricing models. We do not wish to dictate the exact details, but it is critical that milk pricing models deliver sustainable milk prices for farmers."
– Peter Kendall, NFU President

The meeting will be held at the NFU offices in Stoneleigh, Warwickshire today.