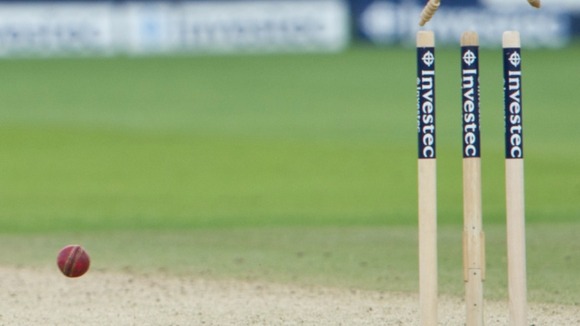 County cricketer David Willey has caused a storm on a social networking site after posting negative comments about his home town of Northampton.
Northamptonshire County Cricket Club's David Wiley, who is the son of former England cricketer Peter Willey, tweeted the controversial comments yesterday:
"What is it with the majority of Northampton being incredibly rude! #mannerscostnothing #scum".
Team-mate Niall O'Brien responded: "Town centre?" to which 22-year-old Willey, who is from Northampton, tweeted: "Yes, terrible isn't it! Absolute dive!"
David Smith, chief executive of Northamptonshire Cricket Club, said he hoped coverage of his comments would make the player think about what he had said.
In a statement released by the club, Mr Smith said:
"We won't comment on individual tweets made on a personal profile page which have nothing to do with the club.

"David is a very talented cricketer who is going to have a fabulous career but perhaps this coverage will make him stop and think about what he has said."
– Northamptonshire County Cricket Club statement

The player apologised today via his Twitter page, saying:
"To clear up yesterdays tweets for those who are genuinely interested, I popped in to Northampton Town Centre to get barged by one guy who didn't apologise, held the door open for a family who didn't say thank you and flashed a car at a junction and didn't get a thank you.

"Admittedly my comment was extreme and I'm aware all Northamptonians are not scum so I apologise to anybody who I have offended. I do believe Northampton Town Centre needs improving but to call it a 'dive' was an exaggeration."
– David Willey