GCSE Dad
Emotional GCSE Dad gets A*
by Rajiv Popat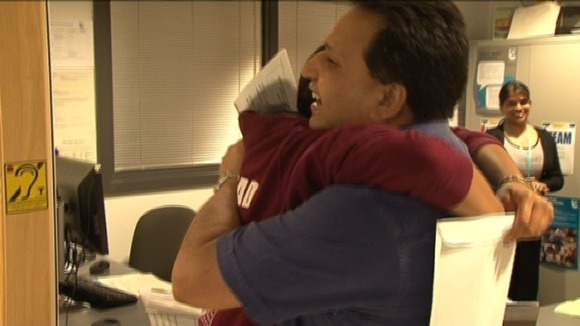 Millions of teenagers had an anxious wait for their GCSE results this morning but one father from Leicester had a double-dose of nerves.
Barnie Choudhury's daughter got her results today and Mr Choudhury got his.
It is more than thirty years since Mr Choudhury took his 'O' levels.
He did well back then but he wanted to find out if all the hype about exams getting easier was true - so he decided to take a GCSE in Maths.
It was a proud day for Mr Choudhury, his 16 year old daughter Olivia got 3 As and 8A * and he got an A*.
"I wanted to test the idea that 'O' levels and GCSE's are still comparable today. It turned out to be quite a challenge for me. It was like going back to school, I suddenly had to deal with trigonometry, algebra and at times thought what on earth have I let myself in for. I have to say, the GCSE was harder"
– Barnie Choudhury