GCSE Advice
ITV Central's guide to GCSE results day
by Lisa Hartle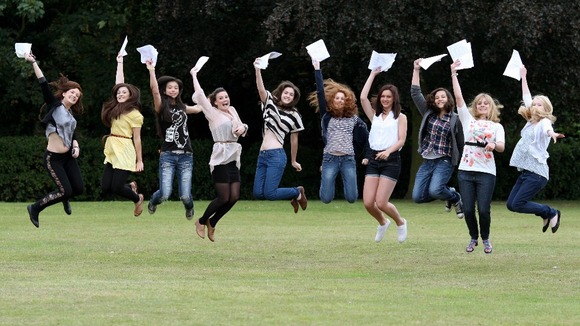 Thousands of young people across the Midlands will open their GCSE results today.
While many will be celebrating, some teenagers may find they have not achieved the results they were hoping for leaving many with difficult decisions to make, others may just not know what they should do next.
A spokesperson for career advice service Connexions says:
This is always a difficult time for young people because some don't achieve the grades they need, suddenly they can't do what they were planning to do while others achieve higher than they thought and so have more options than they expected. It is a time of change and worry which is why we help them to know what their options are."
– Spokesperson for Connexions Birmingham

Here are some guidelines on what options are open to you when you receive your GCSE results today:
Research what options there are available to you, such as an apprenticeship, traineeship, further education or to look for a job.
Write a list of your skills, interests, likes and dislikes and think about where you would like to apply these.
Have a back-up plan, in-case your first option doesn't work out as you imagined.
I did not achieve high enough grades
If you did not achieve the high grades you need to gain entry to sixth form or college it is important not to panic, you should talk to the teachers and find out which course you might still be able to join.
Teachers will be available in colleges and schools over the next few days to give you advice following your results.
If you find you haven't achieved the grades needed to start an Advanced (level 3) course this autumn, there are a number of Intermediate (level 2) courses that you could consider instead, which mean if you do well you can progress onto an Advanced course after a year.
If you did not gain high enough grades for the Intermediate then there is the option of the Foundation (level 1) and Entry course that you can consider. There are a large number of courses offered by colleges that don't require a minimum grade for entry.
Can I retake my GCSE's?
Some colleges do offer the chance to re-take all GCSE's, most places will let you retake English, maths and science, usually alongside another course.
What if I want to get straight into a job?
If you want to go straight into work then an apprenticeship or traineeship might be for you.
An apprenticeship or traineeship allows you to learn whilst you work, building on your skills and experience whilst you earn money and a qualification.
The usual length of an apprenticeship is around 12 months and many companies offer them from plumbing through to journalism, there are many options on offer.
Find out more about apprenticeships here.
For more advice on what your next step could be, contact a careers advice service such as Connexions.