Rugby Premiership
Three Midlands clubs in the running as Rugby premiership campaign begins
by Callum Watkinson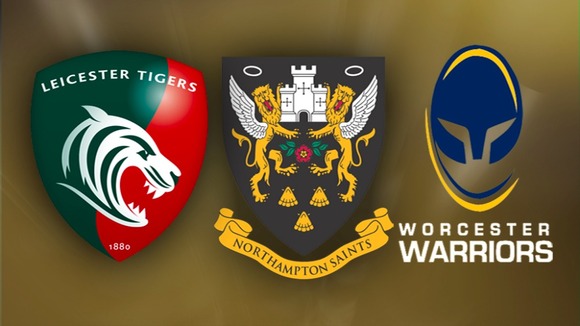 As the rugby Premiership campaigns begin at stadiums around the country this weekend, there are three Midlands teams in the running for English rugby's top honour.
Worcester Warriors aim is to finish above the bottom four as they begin the season at home to Bath.
**
Barring one year out of the seven years of the Premiership this club has been in the bottom four, we'd like to think we can break out of that this year and certainly get ourselves into that middle bracket."**
– Richard Hill, Warriors head coach

The Warriors were beaten last time the two met, but captain Dean Schofield knows he's got an advantage tomorrow. The former Sale Sharks lock signed for Worcester in April after two years with France's RC Toulon, and was handed the captain's armband immediately

"This place is excellent when it's full," he says of the Warriors Sixways stadium. "As everyone knows, the Warrior supporters are very vocal and it helps you on the pitch."

Northampton Saints finished fourth last year and they've been convincing pre-season, beating Edinburgh at Murrayfield last Friday. Not that it's going to their heads as they prepare to face Gloucester tomorrow.
"We were pleased with the way things have gone," says director of Rugby Jim Mallinder. "But you can't take that as anything. This is game one. You forget about what's happened in pre-season, it's all about Saturday afternoon."**
– Jim Mallinder, director of Rugby at Northampton Saints

Or, for Leicester Tigers, Sunday, when they take on newly promoted London Welsh. Literally in a different league until this season, the last time Leicester faced London Welsh was a friendly way back in 1995 which they won 62-19; a mauling the Tigers will be keen to repeat when they welcome the newcomers to Rugby's top flight in Oxford on Sunday.

The Tigers narrowly lost last year's final to Harlequins.

**
"It was a close game, it was a competitive game, and we came second. I have to say that on the day Harlequins were the better team. But this year it'll be different ."**
– John Griffths, Tigers Supporters Club

That optimism's well founded - they've now appeared in a record eight finals in a row.**