The World Championship Hop Pocket Race takes place tomorrow
by Keith Wilkinson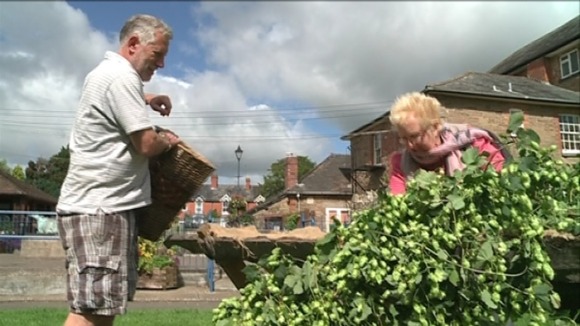 We've had the Olympics, we're gripped by the Paralympics... But there's another contest about to take place that requires Herculean sportsmanship and bravado.
It's the World Championship Hop Pocket Race which takes place tomorrow, and it celebrates the thing that Hereford is famous for... hops.
Some gruelling training is taking place.
Teams of four have to hurtle along with a sack weighing 70 kilograms through the streets of Bromyard in Herefordshire.
"Well you know, in the old days people used to use the tools of their trade for all sorts of competitive events: barrel rolling, things like that, that we still see a bit of now as preserved folk customs. So we thought of something which would relate to the hop yards. These are very heavy. They are very difficult to handle. It's more than a one-man job."
– Chris Barltrop, Bromyard Hop Festival

The festival will have demonstrations on how things used to be done in the old days.
"The bine would have been hauled down from what we call a house.

And I am picking the hops to make money for the Autumn - for the schoolchildren for shoes and things like that.

That's what the women came into the hop yard for."
– Margaret Dallow, Hop picking demonstrator

It's been a tough year for hop growing in Herefordshire because of the wet weather.

But there's plenty of them growing successfully.

And harvest starts soon.
"The plants did go yellow in August which made us panic a bit. But they seem to have recovered well now. And we think here's going to be a good harvest, a reasonable harvest. Hopefully, fingers crossed, things will come off nicely, and the brewers will be able to fill their beers with some great flavours."
– Paul Corbett, Hop merchant

Hop growing here dates back hundreds of years.

But it's not as big as it once was.

With the Hop Pocket Race - now in its second year - they're planning in Bromyard to raise the profile of the crop.

In the hope that we'll see it thriving in the fields for generations to come.