Remploy factory workers start 5-day strike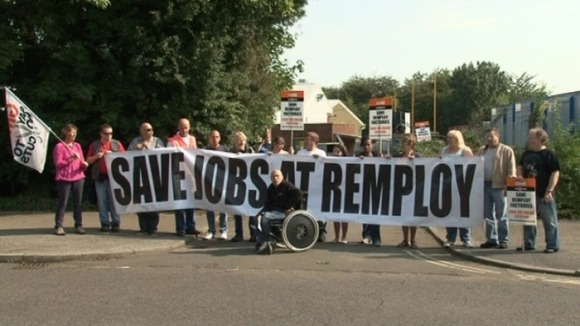 Remploy workers in Chesterfield have begun a five-day-strike as they are worried that they are about to lose their jobs.
The factory is being sold, but workers do not know who is bidding for it or whether their jobs will be guaranteed.
It follows the closure last month of the Remploy factory in Pontefract.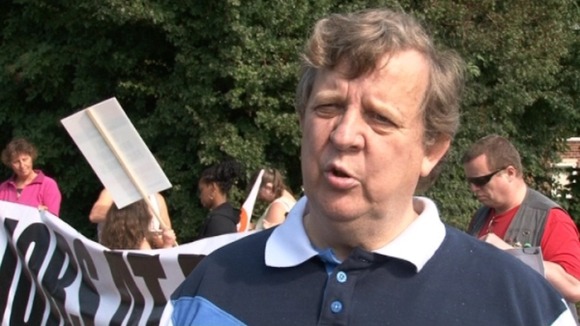 We don't know whether it's gonna be staying open, employing disabled people. We don't know if these people are all going to be made redundant and on what terms, so it could be that these people are buying the factory and buying the order books, we don't know whether there's gonna be anybody employed here after they've taken over."
– Remploy worker

The Department for Work and Pensions argues that while there are 54 disabled people employed at the factory, Remploy Employment Services helped more than 300 people in to work in the same area last year - proof it says, that its money can be better spent.

Brian Davies worked for Remploy for 33 years and is a former Paralympian who won four gold medals.
"They keep saying that, you know, they are gonna help us find jobs. I've got two sons. Same disability as me, they've been trying for six years. There's not a job out there. They can't even get access to work to get a job. Come to my boys. Ask them. There is none."
– Brian Davies

Remploy says:
"The Company hopes to be in a position next month to announce a decision on any bids it has received. Until then the process continues and strike action will do nothing to secure the future jobs of Remploy employees."
– Remploy

Words that will be of little comfort to those who are desperate simply to carry on working.