Birmingham councillors lobbying the Prime Minister
by Alison Mackenzie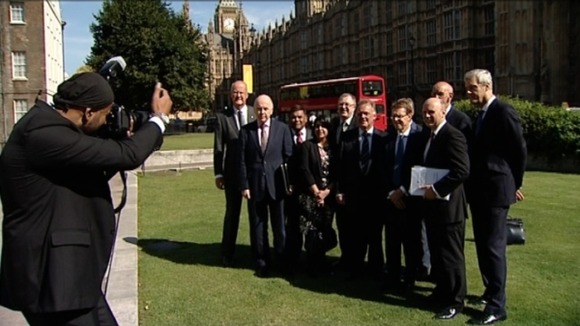 A cross-party delegation of councillors from Birmingham is lobbying the Prime Minister David Cameron in London today.
They are calling on him to back 'Team Birmingham' and call a halt to the multi-million pound cuts to the city's budget.
It was the Labour MP Jack Dromey who secured a promise from the Prime Minister to meet with Team Birmingham.
The backdrop is an unprecendented level of cuts to local authority budgets. Birmingham has already seen 5,000 jobs go.
There are a number of asks we want to make of government in order to try and boost the economy and bring jobs back into Birmingham. We are hoping the Prime Minister will give us a positive response. We have some specific things to put before him. We will not get a yes or no today. We want him with us in the future.
– Sir Albert Bore, Labour leader, Birmingham City Council

It is a cross-party delegation. They say political differences should be put to one side on behalf of the people.
We have a reputation of Brummies coming together to fight for the city. I am delighted to be part of this cross-party delegation. The three main parties coming together fighting for Birmingham.
– Randal Brew Conservative leader

But the message from David Cameron at Prime Minister's Questions in advance of the meeting was that he is sticking to plan A.