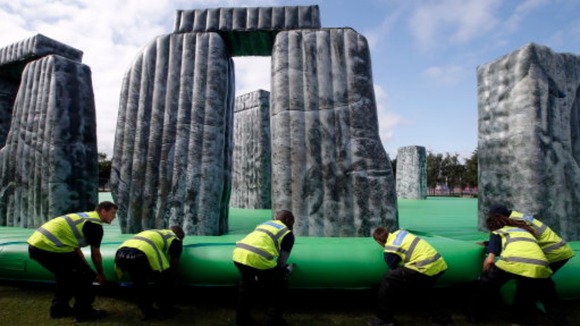 Turner Prize-winning artist Jeremy Deller's lifesize inflatable appears in Stoke-on-Trent today, the only stop off point in the Midlands.
As part of the London 2012 celebrations, it will appear in Hanley Park today and is the only stop off point in the Midlands.
Children from local school St. Mark's will be some of the first in the city to bounce on the life-sized inflatable.
A lot of my work deals with history, and Sacrilege is no exception, this is a way to get reacquainted with ancient Britain with your shoes off.
– Jeremy Deller
We are thrilled to welcome such an iconic and impressive art work to the city, and it will really transform Hanley Park, the biggest park in the city.
– Councillor Mark Meredith, Stoke-on-Trent City Council Cabinet Member for Economic Development,

'Sacrilege' has been touring around the country since June when it marked the first day of the London 2012 Festival and will travel to over 30 locations in the UK.

The historic looking inflatable is aimed at people of all ages and it is expected to attract a lot of people at Hanley Park.