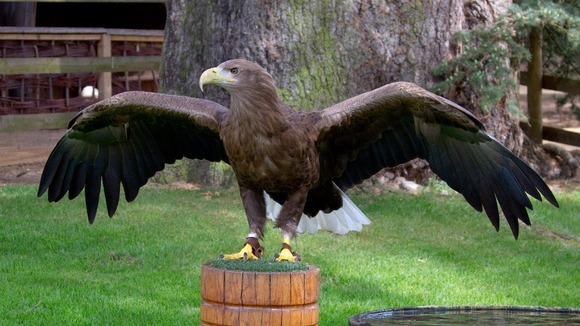 A bird of prey from Warwick Castle has been reported missing after flying away during a show on Thursday lunchtime.
The White Tailed Sea Eagle named Stan which has a wing span of 6 and a half feet, has been at the tourist attraction since 2004, he has flown away before but only for 2 or 3 hours.
The Warwick Castle bird-handler Chris O'Donnell says they are becoming increasingly concerned as it is highly unusual for them not to have received any reports of sightings from the public:
"Sometimes the birds fly off and rest in a tree, we give them so much freedom so it happens from time to time, but they always come back.

"Usually we receive a call telling us where a bird has been spotted around the area but to not hear anything for five days is highly unusual."
– Chris O'Donnell - Bird Handler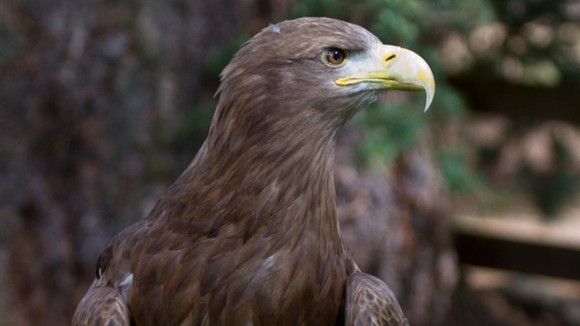 The ten-year-old eagle is not capable of hunting for himself says Chris, but he would be able to pick from a dead animal and this breed of eagle can survive without food for a week.
The reason for Stan's disappearance could be due to the weather explains Chris:
"There were some strong winds on Thursday, eagles are designed to soar on air, if he tried to fly against the wind it would be like one of us trying to swim against a current, it is physically tiring, so he may have just rested in a tree.

"He loves it here at Warwick Castle, he gets free food and freedom."
– Chris O'Donnell - Bird Handler
Stan is a timid bird, it took us two years to get him used to crowds here at Warwick Castle, if anyone approached him he would fly away. He poses no danger to the public, if anyone spots him we ask that they contact us."
– Chris O'Donnell - Bird Handler

These eagles are native to the UK and live in Scotland, so if spotted it is likely to be Stan.

He is most likely to be spotted sitting in a tree or on a post, if anyone sees Stan call 01926 495421.