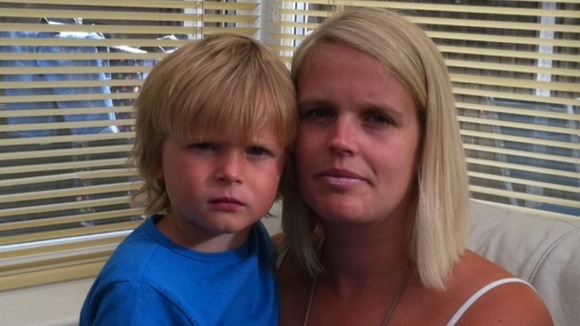 A mother is keeping her child at home in a row over which school he goes to.
Tina Mullett from Leicester is refusing to send her four-year-old son Thomas to a school four miles away because she wants him to attend Ravenhurst Primary school which is just 250 yards from her home.
Leicestershire County Council says Ms Mullett missed the application deadline for a school place. But she claims it was only by 24 hours, and was because she was recovering from a back injury at the time.
Tina Mullett appealed against the decision but was unable to attend that hearing as she was suffering from post-natal depression.
Thomas's brother Alfie, and sister Ruby already attend Ravenhurst Primary, where Ms Mullett also works as a dinner lady.
"As far as we were concerned, it was always the case that Thomas would follow them. When Thomas was at nursery, he was taken to Ravenhurst to show him what the big school he was going to looked like. He loved it and was very excited about going to the same place as his brother and sister."
– Tina Mullett

The council has offered to send a taxi so Thomas could go to the Danemill Primary school in Enderby, but Ms Mullett says she refuses to put her four year old son in a taxi on his own.

In a statement Leicestershire County Council said,
"Every year, we use newsletters, magazine adverts, posters, radio, schools and other channels to raise awareness of the need to apply on time. Applying late means you have the lowest priority and if the school is full, parents will have to take-up places elsewhere. We sympathise with the parent and an independent appeals panel considered this case. Unfortunately for the parents, the panel did not find in favour of their appeal. We have, in the meantime, offered the family an alternative school."
– Leicestershire County Council