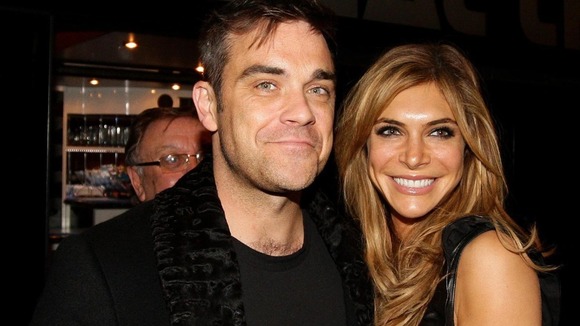 Stoke-born singer Robbie Williams has announced the safe arrival of his baby daughter Theodora Rose Williams.
Writing on his blog the singer said:
"Praise be, it's Theodora Rose Williams, affectionately known as Teddy..... Born 3.33pm on 18.9.12, 7Ibs 4OZ.

"Baby, Mummy and Daddy are all rockin.... Thank you for your best wishes XXXX."
– Robbie Williams

Williams and his US actress wife Ayda Field had previously announced that they had chosen a traditional name for their daughter who was born in London's Portland Hospital, adding there was going to be "No mad celebrity baby name".

The singer has already started making plans for his daughter's future. He has said that he would prefer his child to grow up in the UK instead of Los Angeles, where the couple currently live. He described children educated in LA schools as having "a massive sense of entitlement" and that they were "dull and dumb". He said:
"I don't want to educate our baby in LA because I would much prefer her to have English sensibilities.

"I want the baby to have an English passport, we're still figuring out exactly whereabouts the baby is going to be brought up.

"I had a conversation with the wife last night about where we're going to end up but we still don't know."
– Robbie Williams

Celebrities have begun congratulating the Potteries' singer on Twitter:

Massive congrats Rob and Ayda.So happy for you

Congratulations @robbiewilliams on the birth of your first child, Theodora Rose Williams.