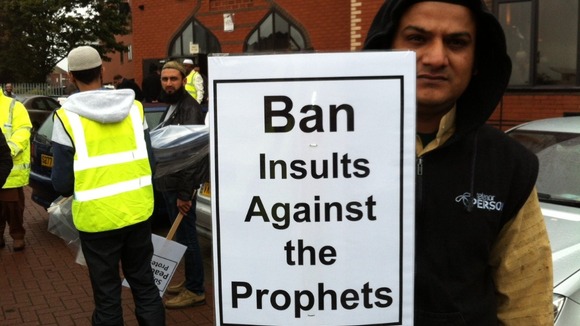 Hundreds of people have taken part in a demonstration in Leicester against an anti-islamic film, that has sparked a wave of protests around the world.
The protest took place outside Leicester Central Mosque in the city this afternoon over the anger at an anti-islamic film called 'Innocence of Muslims'.
Members of the Islamic Centre and Leicester Cathedral have condemned the film.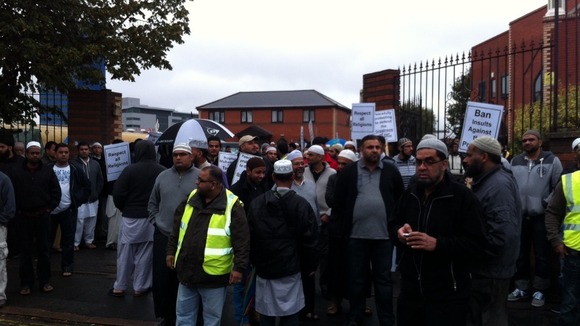 Our reporter Rajiv Popat spoke to Mustafa Malik from the Islamic Centre of Leicester to find out why it is so important to them to hold the demonstration.
"Being Muslims, our faith is that there is one god and this is the duty of every Muslim because the faith cannot be completed without the love and protection of the honour of the prophets not only our prophet but all the prophets even before our prophet."
– Mustafa Malik, Islamic Centre of Leicester

The film has been regarded as an insult to the Islamic world, the muslim community say freedom of speech has been abused.
"It is a big insult to the prophet and it is being named as a freedom of speech, it is not freedom of speech, freedom of speech should come with some responsibility, muslims all over the world are protesting against this demonising act."
– Mustafa Malik, Islamic Centre of Leicester

About 10,000 Bangladeshi Muslims took part in demonstrations after Friday prayers in the capital Dhaka against an anti-Islam film made in the US and also against cartoons mocking the Prophet Mohammad published in a French magazine.

There have also been protests in other countries including India, Malaysia, Yemen, and Germany.

Fore more on this story visit the ITV News website.