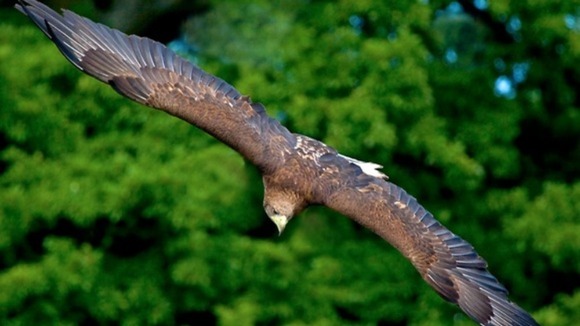 A bird of prey from Warwick Castle who flew away during a show on Thursday 6 September is still at large despite falconers getting close to him several times.The White Tailed Sea Eagle named Stan, which has a wing span of 6 and a half feet, was initially found five days after going missing in Leamington Spa after viewers saw the story on Central News reporting sightings in Leamington Spa.However despite trying to temp Stan down from trees he flew away from handlers and was not spotted again for five days until on Tuesday (18 September) a farmer reported seeing him eating a dead sheep in Daventry near Badby.
Now one of Stans feathered friends from the castle, Sidney, the bald headed eagle is helping to temp Stan back home.
"He is definitely still eating and being quite lazy just letting the wind take him from place to place, this is the frustrating thing for handlers.

"The falconers have got their eyes on him now and are keeping close to his location, they are leaving rabbits out and have Sidney, one of the castle's bald headed eagles, feed on them to hopefully tempt Stan back with a snack."
– ADAM BUTCHER OF WARWICK CASTLE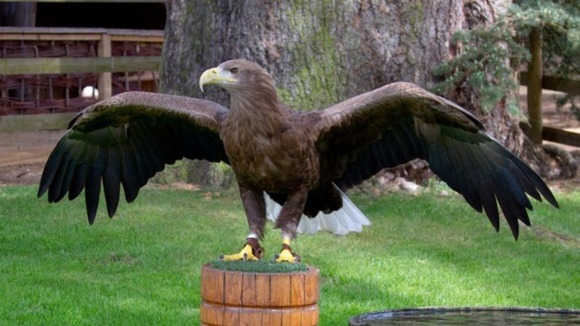 Chris O'Donnell the bird handler says Stan has just found himself lost and it is not a bid for freedom. He is hoping that recruiting Sidney the bald headed eagle to help will see Stan home in no time.
"He landed in the promised land with lots of dead rabbits to eat, but the food won't last and he has no hunting skills so he will be happy when he is home.

"We have brought Sidney the bald headed eagle in to help get Stan home.

White tailed sea eagles are naturally quite jealous when they see others eating lunch, so we are placing a dead rabbit near to him (when we find him) and let Sidney have his lunch."
– Chris O'Donnell - Bird Handler

Hopefully Stan will join his friend Sidney for lunch and will find himself back home at Warwick Castle after his long Midlands adventure.