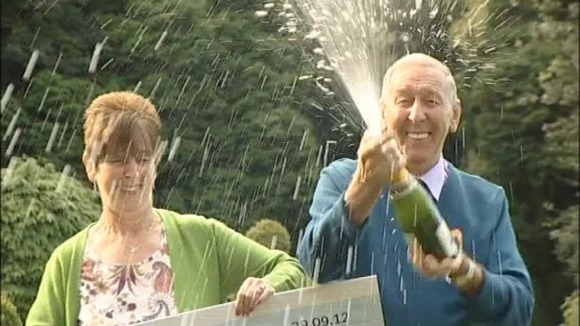 An 80 year-old man from Tipton who scooped a £3.9 million lottery jackpot with his daughter says he always knew he would win.
Thomas Foden and his 60-year-old daughter, Irene Harper, claimed £3,909,990 in the UK's first quadruple rollover draw on Saturday (29 September).
The father and daughter spoke at a press conference at The Mount Hotel in Wolverhampton this morning (3 October) where Mr Foden said he always knew he would one day be a winner.
I always said we'd have a big win and it's a surprise now it's actually come. It's nice to think we've got money now and can do what we want with it.

I've always said I wanted my grandchildren to be all right and now that's made my life.
– Thomas Foden, 80, lottery winner

On asked why he came public with his win, Mr Foden said he 'wasn't brought up to tell lies.'

Mr Foden, who worked in the building trade for most of his life, has four grandchildren who he described as the "best grandchildren you can have".

Mrs Harper, who works as a full-time carer for her husband, said the money would make a huge difference to her two sons and their family.
It's just that I know now that my sons are going to be okay, and that's just the main thing.

"It's just a bit unreal really, it's a bit hard to take in. I think it's sinking in now we've seen the cheque and everything."
– Irene Harper, 60, lottery winner

Mrs Harper bought the lucky dip ticket at a Costcutter store, a shop she had never used before but decided to try because they had just got a new lottery machine.

She and her father have been playing the lottery since it started in 1994 and have won £10 occasionally.

Mrs Harper said she did not watch the National Lottery show as normal at the weekend and only looked at Teletext an hour or so later.

When she did she thought she had five numbers and had to call her son Simon who double-checked on his computer and then ran downstairs to tell her she had all six.
No one slept that night, plus in amongst all of this it was my birthday the next day, and we were all going to see Carl (her son).

We carried on with the celebrations and then called the National Lottery Hotline from our hotel room in Liverpool on Monday to make the claim. I just can't believe it.
– Irene Harper, 60, lottery winner

The pair said they might think about moving house in the future even though it is "early days" and were just trying to let the news sink in.