Cystic Fibrosis drug 'being denied'
by Victoria Davies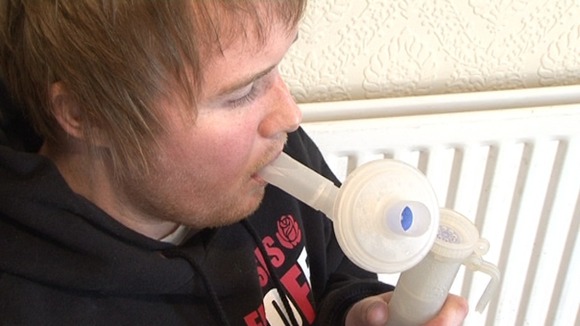 A 21 year old with Cystic Fibrosis says he is being denied a drug which could allow him to live a normal life.
David Noonan, from Coventry, currently has to take fifty tablets a day and have two hours of physio to keep his lungs stable.
His life threatening condition means his lungs clog up with a sticky mucus. There is no cure but there is a drug which could help improve the Nottingham Trent Student's lung function, called Kalydeco.
But Heartlands Hospital in Birmingham refused David the drug - even though it was being offered for free on a temporary basis by the drug company, as part of a clinical trial.
It's really upsetting. I have had all the best treatment all my life and now it has come to the point where they won't fund the drug which will actually save me and keep me out of hospital. I would really want to give it and go and see what this drug could do even if it is for a couple of months.

"It is the first drug that treats the cause not the symptoms. I would say if I had it now I would lead a normal life and reports have suggested it could add ten years onto your life. That means it would give me a future.
– David Noonan

David's mother EIaine has to take David to his regular hospital appointments.
"This drug is the nearest thing to a cure for him at the moment. It would make such a huge difference. David's lung function which was nearly 90% three years ago has dropped down now to 39% and it will continue to do so unless he gets this drug."
– David's mother EIaine
The Trust decided not to obtain Kalydeco on a compassionate basis because the...patient scheme for free Kalydeco is temporary and the Trust would face withdrawing the medication when the scheme stops, which would be unethical.

"We have approached our commissioners to apply for funding and are putting together special exception application to the Primary Care Trust.
– Heartlands Hospital statement

The drug costs £182,000 per patient per year. But the results have been so positive the CF Trust is campaigning for Kalydeco to be made freely available on the NHS.