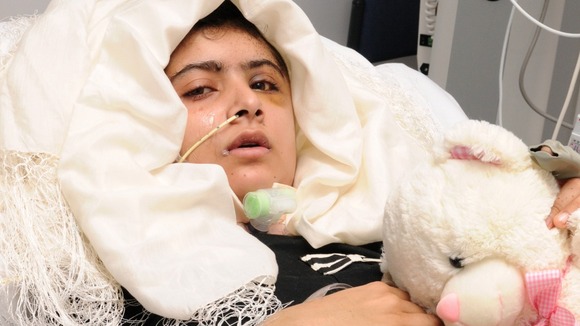 This is the first picture of Malala Yousafzai, the girl shot by the Taliban in Pakistan for speaking out against the regime.
The 14-year-old from Pakistan is seen here with her teddy bear in the Queen Elizabeth Hospital, Birmingham.
Doctors released details of her injuries after the teen consented to details of her medical condition to be released to the public.
Malala has also stood for the first time today since she was shot in the head on Tuesday (16 October).
Surgeons said today that they are hopeful she wil make a full recovery thought "she is not out of the woods yet" after suffering some damage to her brain, and showing signs of infection.
Dr Rosser said she is not able to talk at present but that is due to a tube in her throat:
"She's not able to talk, but we have no reason to believe she wouldn't be able to talk once this tube is out, which may be in the next few days."
– Dr Rosser

Dr Rosser said Malala is communicating through writing:
"She is writing very freely, she has had a tracheotomy as her airway was swollen by the passing of the bullet.

"One of my colleagues spoke to her in Urdu, although she is understanding English, and she is keen that I share the details and thank people for their support as she is obviously aware of the amount of interest and support and she is keen to thank people for that."
– Dr Rosser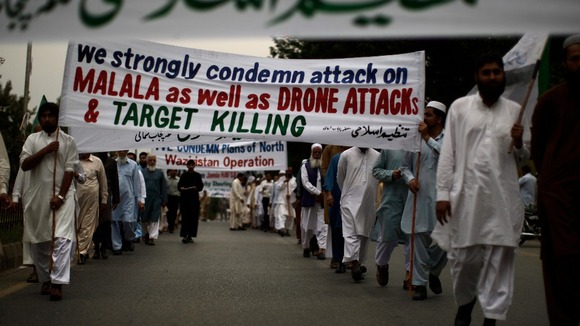 The doctors said today that Malala was shot above the back of her left eye with the bullet travelling down the side of her jaw and damaging the skull.
He added that the bullet which had become lodged in the tissue above her shoulder blade on the left was removed in Pakistan quickly:
"The bullet was removed quickly, in terms of further care, specialist teams think she is going to need a couple more weeks to rehabilitate, until this infection has cleared up, then her skull will need reconstructing, either by using a piece if bone that was removed initially, or with a titanium plate."
– Dr Rosser

Malala was attacked in her home country of Pakistan after she spoke out supporting education for women, even writing for the BBC about life in Swat, North-West Pakistan.

She was then airlifted to Birmingham to receive specialist reconstructive treatment.

For more on this story click here.