Thousands to join trade union march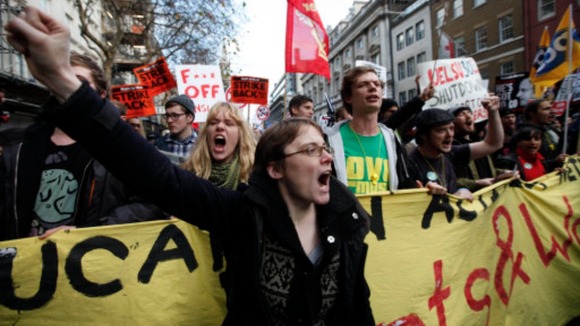 Thousands of people from across the Midlands will travel to London to join the TUC 'future that works' march today (20 October).
It is expected to be the largest demonstration this year against the government's austerity measures.
The country's biggest union, Unite, claims the government's attempts to reduce the deficit has caused wages to stagnate and has forced people to borrow just to get by.
I talk to members on a daily basis - and a growing number are struggling to keep their heads above water through this double-dip recession. Shockingly, working people in the East Midlands are being forced to borrow £276 on average each month, just to make ends meet.
– Gerard Coyne, Unite Regional Secretary in the East Midlands

Unite say they want the government to increase the minimum wage by £1 an hour and introduce a cap on energy bills.

The protests come at a time when Chancellor George Osborne will feel his austerity measures are starting to take shape.

Recent figures show the budget deficit was the lowest for a September since 2008 and unemployment has dropped to its lowest rate since June 2011.