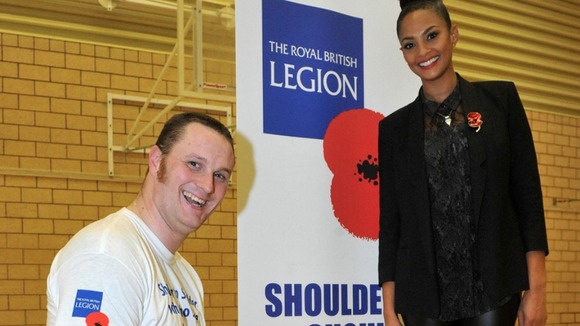 A soldier who lost both his legs in an explosion in Afghanistan has become the face of The Royal British Legion Poppy Appeal.
Sapper Clive Smith, who is from Cannock in Staffordshire, was serving with the 33 Engineer regiment when he was injured in an improvised explosive device incident in 2010. He was part of a team searching for improvised explosive devices when the blast happened, he spent five days in critical care before he was transferred to Headley Court.
Determined to overcome his injuries in April Clive Smith spent a week at the Battle Back Centre in Lilleshall, Staffordshire. The centre, which is funded by The Royal British legion, helps the wounded, injured and sick service personnel recover.
During his time there, he took part in activities such as wheelchair basketball, rock climbing and bowling.
"Taking part in activities like wheelchair basketball, rock climbing and bowling was great fun and really encouraged me to focus on what I could do as opposed to what I couldn't do after injury. This positive outlook has really helped in all parts of my life.

"It's humbling to know that the centre has been created because of the public's generous support of the Legion, and the Poppy Appeal in particular. Without it, the Legion would not be able to help guys like me, as well as people who have left Service and their families. I'm glad to be giving my support to the charity by being at the launch and also being in the Poppy Appeal poster campaign."
– Sapper Smith

Sapper Smith is in London and is oined by celebrities including Alesha Dixon and Pixie Lott to launch this year's national Poppy Appeal.
"It was personally inspiring to meet the Centre staff and participants such as Clive Smith, who was seriously injured in Afghanistan. I saw first hand how Clive and other troops are being supported in their recovery through sport, and to focus on what is possible. They put their necks on the line to give us all a normal life, and I'm glad to be giving something back to them by supporting the Poppy Appeal."
– Alesha Dixon