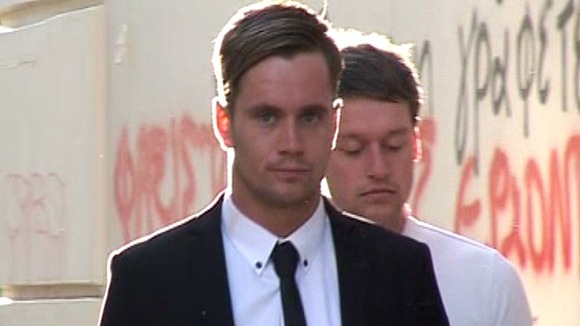 Luke Walker has arrived back home in the Midlands for the first time since being arrested on suspicion of murdering his girlfriend in Greece.
The 24 year old is accused of beating Chelsea Hyndman to death - something he has always denied.
He had been due to go on trial in Crete, but last week the murder trial was dramatically adjourned because key witnesses were not summoned.
Luke was bailed to return to the UK and allowed to return home to Brierley Hill near Dudley, for the first time in two and a half years.
Luke flew back with his father Patrick and mother Lindy last night, and was welcome by other family members at Heathrow.
I'm happy to be back but it's not a celebration, I still have a trial to go through and I still want to clear my name. If I get a court summons back there tomorrow, I will be on the first plane out. Now I just want to go and see Chelsea's grave and visit the memorial garden that was planted in memory - I have not been able to say goodbye and grieve properly. I really need to go and do that.
– Luke Walker

20 year old Chelsea Hyndman from Castleford in West Yorkshire, had been working at the party resort of Malia, when she died after suffering severe injuries to her stomach.

Greek prosecutors claim she was beaten by Luke Walker. But he says that contrary to previous reports, he doesn't believe Chelsea died after falling over, but from food poisoning.

After Chelsea's death, Luke was arrested by police and charged with murder. Luke spent five months in a Greek prison but was released on bail on the condition that he would stay on the island until his trial.

The Walker family are waiting to hear when the trial will go ahead in Greece, but expect it to be some time next year.