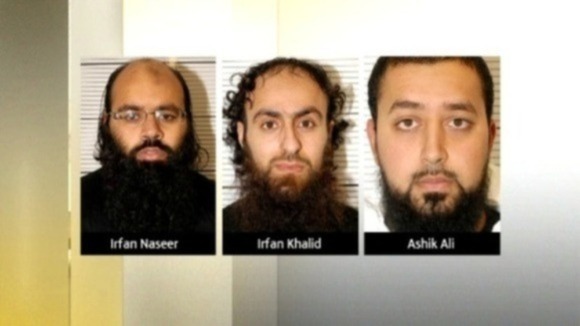 The jury in the trial of three men from Birmingham accused of plotting a suicide bombing campaign has been told that if they had succeeded, they would have caused death and injury on a massive scale.
The trial heard today the men had discussed how to make explosives and how many people they could kill.
The prosecution's case against Irfan Naseer, Irfan Khalid and Ashik Ali is based largely on conversations secretly recorded by the Security Service.
Bugs were placed at the Sparkhill flat the men are accused of using as a safe house.
And today the jury was played recordings of some of the conversations the bugs picked up.
Irfan Naseer is allegedly heard discussing how many people might be killed with a one kilogram bomb especially if nuts or nails were sellotaped to it.
The jury was told police later found a partly burnt diagram containing what was described as a blueprint for a viable home made explosive.
The prosecution say the defendants' conversations also contained detailed formulas and methods for bomb making.
The court was played another recording of Irfan Naseer allegedly explaining to Ashik Ali how an explosive could be made.
Prosecutor Brian Altman QC told the jury the evidence does not reveal any settled or certain timescale for the terrorist attack these men were planning, nor a target or location.
But the defendants words and actions demonstrate a settled intention to execute their attack plan in this country and with it ensure their own martyrdom.
But for the timely disruption by the authorities, he said, this plot would have culminated in death and injury on a massive scale.
The three men** **deny all of the charges. The trial continues.