The Waterloo Hotel was opened by Mitchell's and Butler in 1907. The brewery wanted an impressive venue in which to showcase their products, and decorated the Waterloo to the highest standard. The exterior features elaborate terra cotta detail in classic Edwardian baroque style, with colourful tile work throughout the interior.
The reserve of £50,000 may sound like a bargain for a building this size, but the purchase price will be a small part of any buyer's outlay. It's thought the cost of making it habitable could run to hundreds of thousands of pounds - and because of the building's grade two listing not much can be changed, either inside or out.
We've had a lot of interest in this building; but whoever does buy it will need a clear understanding of listed buildings, a vision for the future and very deep pockets.
– Auctioneer Ian Tudor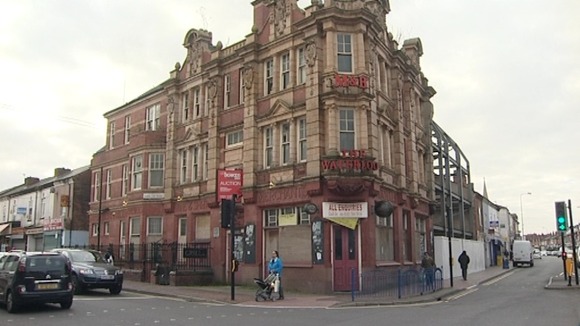 Local historian Joe Holyoak took a look round on viewing day last week.
I'm less dismayed than I thought I would be. We'd heard terrible things about the damage that's been done, but it's retrievable. The majority of the fabric of the interior is pretty intact.
– Local historian Joe Holyoak

For one prospective buyer there is more to this old place than architectural curiosity. From 1978 to 1992, Carole Field lived above the Waterloo with her family when late husband Bob was the landlord.

Carole and son Sevi will be at the auction today and plan to place a bid, though they suspect their pockets may not be deep enough.

They're hoping whoever wins today will be able to rescue the historic hotel that, for them, was also a family home.
I think we had all the good times here - some fantastic times. I just can't believe that anybody's let it get into this state. It's really upsetting to see.
– Carole Field