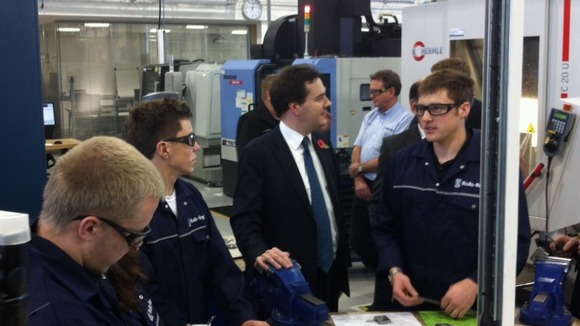 A new fourteen million pound state-of-the-art Apprentice Academy at Rolls Royce in Derby was officially opened today by the Chancellor of the Exchequer, George Osbourne.
Apprentices will gain hands-on engineering skills which can then be used in other local manufacturing industries.
186 new recruits have begun a 3-year-old course at the company's Learning and Development Centre.
Mr Osbourne said :
" We've got apprentices here being trained in the skills they need to have great careers in the future but they are also contributing to the future of the British economy. We will be spending more on apprenticeships and more on the aerospace industry. Today I'm actually launching a new engineering diploma here in Derby because Derby is at the centre of so much that is right with the British economy"
– George Osbourne

Clare Cordon, an apprentice, told Central Tonight she was interested in maths and science at school and decided on a career path with those subjects in mind.

She said : "I looked into apprenticeships instead of university because I wanted a more practical role after sixth form so that was my ideal role."