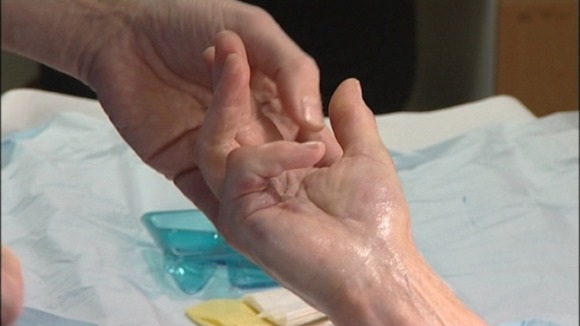 People suffering from the hand condition known as Dupuytrens are being given new hope with the introduction of a new form of treatment at the Royal Derby hospital.
The condition causes the formation of lumps of tissue in the hand, making the fingers to bend into the palm of the hand. The result is that simple tasks such as putting on make-up or holding cutlery are made much more difficult.
Until recently the only remedy has been to surgically remove the lumps of tissue which was costly, time-consuming, and often left scar tissue. But now patients at the hospital's Hand Unit are being offered a new form of treatment.
It involves a series of injections which loosen up the affected tissue, so the finger(s) can be straightened just 24 hours later.
Consultant hand surgeon Chris Bainbridge says,
"Basically it's an enzyme that we inject into the chord and it literally dissolves it. it turns the tight band into soup which the body then hoovers up. And the following day - 24 hours after we've injected it - we can just pull the finger out straight."
– Consultant hand surgeon Chris Bainbridge