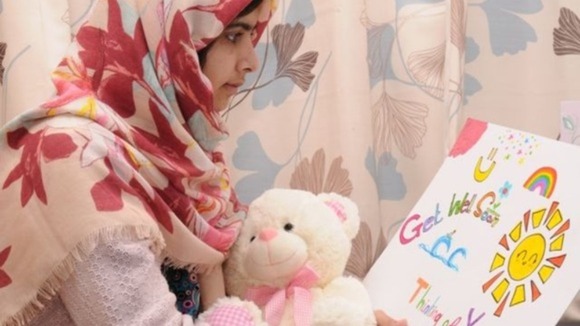 Today has been declared Malala Day by former Prime Minister Gordon Brown in his role as UN Special Envoy for Global Education.
It has been a month since 15-year-old Malala was shot at close range on a schoolbus by a member of the Taliban in Pakistan for speaking out in support of education for girls.
This 'day of action' coincides with his trip to Pakistan to deliver a petition containing more than a million signatures to President Asif Ali Zardari, urging him to 'make education a reality for all Pakistani children, irrespective of gender' by 2015.
Malala was flown to the hospital in Birmingham for specialist treatment following her attack, where she is being cared for by a medical team made up of staff from the Queen Elizabeth Hospital and Birmingham Children's hospital.
Speaking from Pakistan where he presented the petition signatures and made historic agreements with President Zardari on delivering educational change Gordon Brown said:
"The world has come together in support of this amazing young woman, of

her family and of the cause that she champions. What Malala asks for is so

simple - her right to go to school. Over the last month we have seen global

citizens recognise the importance of that right, and the importance of

vocally supporting it.

"I believe that if we act together in speaking out,

we can begin to deliver on our promise of education - for Malala, for the

children of Pakistan, and for the 61 million children who do not receive an

education around the world."
– Gordon Brown, UN Special Envoy for Global Education

There are vigils and events taking place around the world, one of the most poignantly regarded by the UN is taking place in Birmingham only a few miles away from Malala's hospital.

The local multicultural association (LAHMA) is holding a community event at St Paul's Church and St Silas in Lozells and the event will be addressing the event alongside Khalid Mahmood MP and other community leaders.

Elsewhere in Birmingham is a book of messages for Malala, this is expected to draw large crowds at Birmingham's Council House in Victoria Square between 10 am and 2pm.

Saturday's celebration of Malala is supported by the UN General Secretary Ban Ki-moon and Gordon Brown, the UN's Special Envoy for Global Education.

On Thursday, the father of the Pakistani school girl shot by the Taliban spoke out on her behalf. From Malala Yousafzai's bedside in Birmingham, Ziauddin Yousufzai reaffirmed her commitment to education for girls and passed on her thanks to supporters around the world.

In a video released by Queen Elizabeth Hospital, he said Malala has been "inspired and humbled by the thousands of cards, messages and gifts" from well-wishers.

Since Malala arrived in Birmingham on October 15th she has received thousands of gifts and messages of support from around the globe.

Some of the gifts include pocket money 'for sweets', teenager's favourite CDs, school books, clothes, toys and jewellery.

The schoolgirl has also received letters from pupils supporting Malala's campaign for girls' education.