Staffordshire pedestrians confused by new level crossing in Leek
by Wesley Smith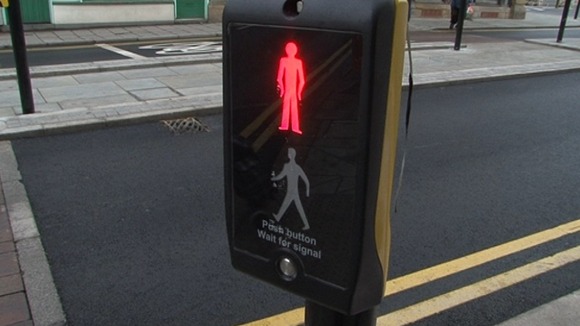 Pedestrians in Staffordshire say they fear someone will be killed on a new road crossing installed in their town.
There are concerns that the lights stopping traffic are not in the right place and others say they have been injured walking across it.
Although it does seems to be going down well with motorists, the leader of the District Council has admitted even she has reservations.
The traffic seems to be flow reasonably well, but pedestrian-wise, it can get chaotic.
It's human nature to go the shortest direction and that's what most people are doing.
The traffic is controlled by lights in one place, however the crossing itself is in another.
Pedestrians say it's confusing.
"I think the whole project has been handled extremely well. I think County Council Highways have done a really good job, buut the kerbing, in my opinion, is a safety hazard, so I'm asking Highways ot consider putting railings along both sides."
– Cllr Sybil Ralphs MBE Leader, Staffordshire Moorlands Council

Today the motorists ITV Central spoke to seemed content with the new system.

The County Council has had people helping to explain the crossing to pedestrians.

But already people say they've tripped on the raised area into the road.

For more information on this, watch Wesley Smith's report below.