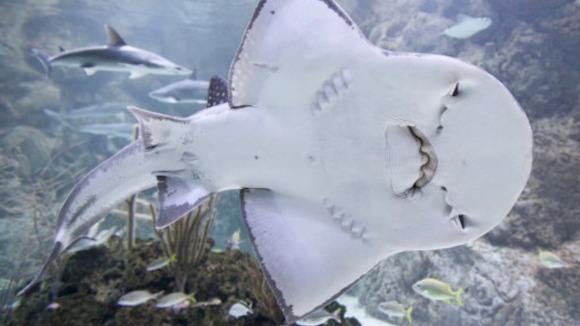 A male and female bowmouth shark are to meet for a blind date at Birmingham's National Sea Life Centre later today.
If Boris and Betty strike a happy relationship, Birmingham could become the world's first bowmouth shark breeding headquarters.
Bowmouth sharks are usually found in the coastal waters of the Indo-Pacific region and they resemble a shark-crossed with a ray.
Its large pectoral fins extending either side of its head make it a target for the finning-trade.
Betty has been a popular resident of Blackpool Sea Life Centre's big ocean tank for several years. She has had to be evacuated from that tank along with its other shark residents while its glass windows are replaced, and this seemed the perfect opportunity to try for a love match.
– graham burrows, birmingham curator