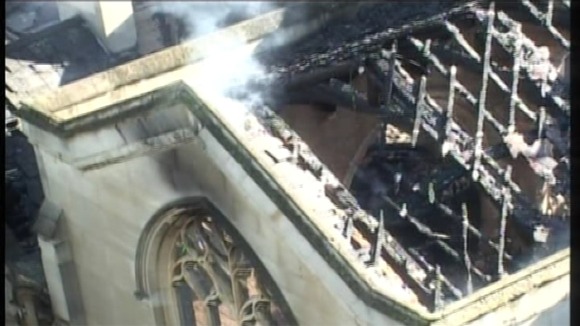 Five years after a massive fire caused by arson destroyed its roof and nearly all the stained glass windows, St Barnabas' Church in Erdington is reopening with a special service today.
It took 75 firefighters and 15 engines to put the fire out, which started at around 6am on 4 October 2007.
After a huge fundraising effort with more than £5million spent on restoring it, the 18th Century church will open today with a special rededication service. Around 400 people are expected to attend.
This church was built 150 years ago to meet the needs of its community. Those needs have changed so the church must change with it.

We want to forge closer links with the community, and we are keen to hear from volunteers, supporters, fundraisers and neighbourhood representatives who share our passion for supporting Erdington, and the people who live here.
– Reverend Freda Evans

Services had to be moved to St Barnabas School. But now the final touches are being put to what Rev Evans hopes will be a new hub for the community, with rooms available to hire from January.

A new 13-foot wide stained glass window has also been designed by artist Pippa Blackall, to take the place of some of those destroyed in the blaze.