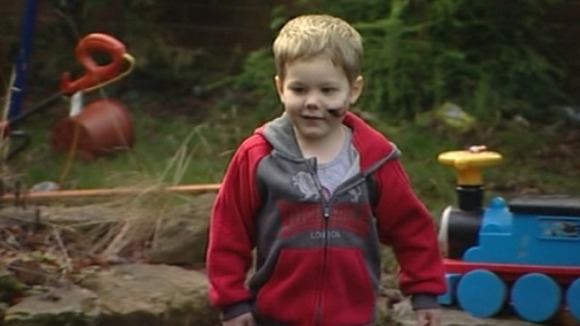 The mother of a three-year-old boy says she thought her son was going to die after he was attacked by a dog.
Trafford Jackson-Poole needed 100 stitches to his face and was left with a fractured eye socket after he was mauled by the Japanese Akita.
His mother says the dog should be destroyed after Trafford was left with a four inch wound, likely scarring him for life.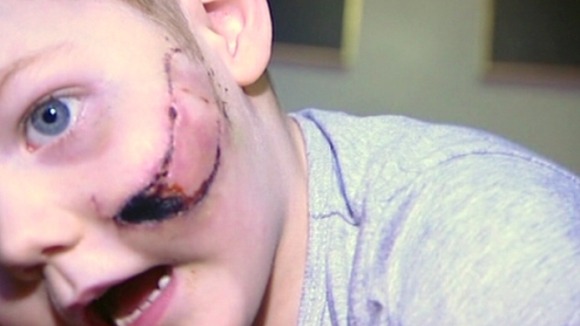 Trafford-James was mauled by a Japanese Akita dog at the Nag's Head pub in Newbold near Chesterfield in Derbyshire, after walking away from his parents.
Trafford had gone into one of the other rooms to say bye to someone in there. Next thing we heard a dog growl and bark, someone screaming get off. Trafford appeared holding his face, when he moved his hand his skin was pretty much on his shoulder where it had all fell out his face. First thought were is he going to die I think that's any parents first thought really.
– Gemma Jackson, mother

The three-year-old underwent immediate surgery to his face, carried out by a plastic surgeon.

The force of the bite also left him with a fractured eye socket.

He will need a further operation later this month to remove some of the damaged skin but Trafford's mother says the dog should be put down before it attacks again.
"I'd like to see it destroyed but I don't know where we stand on that police are still interviewing people, there's still a long way to go but if it's done it before there's a good chance it could do it to somebody elses kid. It might not be as lucky as what Trafford's been."
– Gemma Jackson, mother

The family say they have regularly seen the dog behind the bar but Marston's the brewery which owns the Nag's Head would only comment to confirm that police are investigating.

In the meantime Trafford-James is still having nightmares about the attack and may face more surgery in the future.